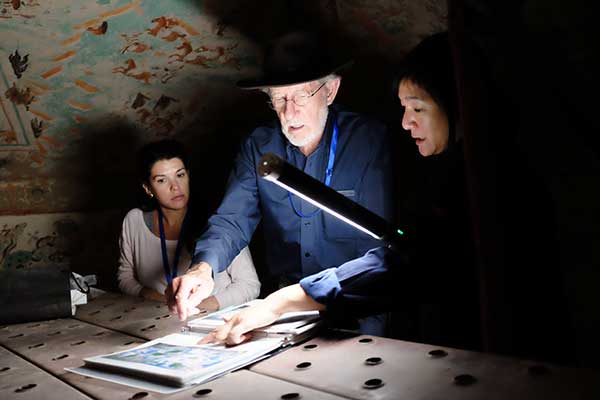 Neville Agnew (center) has devoted himself to the conservation of the Mogao Grottoes in China for the past few decades.[Photo provided to China Daily]
A heritage conservationist from the US has been working on a Dunhuang cave for decades, with happy results, Liu Xiangrui reports.
When he first visited the Mogao Grottoes in 1989, Neville Agnew didn't expect the site near Northwest China's Gobi desert to become his regular haunt.
A specialist in the conservation of relics, Agnew has been going to the caves filled with Buddhist statues in Gansu province, as part of a long-term engagement between his US employer and the Dunhuang Academy to work on guarding the UNESCO World Heritage site against decay and human effects.
"I didn't know much about the country," Agnew, 77, says of his early days in Dunhuang city. He works as the principal project specialist with Los Angeles-based Getty Conservation Institute.
The Mogao Grottoes that were a cultural stop on the ancient Silk Road flourished between the 4th and 14th centuries and comprise 492 caves with Buddhist wall paintings and sculptures.
Agnew's main focus is the conservation of wall paintings in Cave 85, a late Tang Dynasty (AD 618-907) gem, which has deteriorated due to salts from the underlying rocks.
He also works on the management of visitors, whose numbers have increased rapidly since the site was opened in 1979.
"The most striking thing for me is to imagine how it was like in ancient times, when businesspeople traveled along the Silk Road and overcame hardships and even dangers," he says, lost in thought. "Then monks took them into the caves. For them it was going to be a huge transformation from the desert environment. They had to be amazed."
Agnew recalls the site being an isolated place in the 1990s.
During one of the trips back then, he and his colleagues rode an overnight bus to the nearest airport in the provincial capital Lanzhou, which is more than 1,000 kilometers from Dunhuang.
A sandstorm had led to the local airport being shut down, but they were in a hurry to catch their flight back to the United States from Beijing.
Their bus moved along the mountain road, which had been the scene of many accidents.
"We've seen lots of improvement in many aspects over the years," Agnew says of the place.