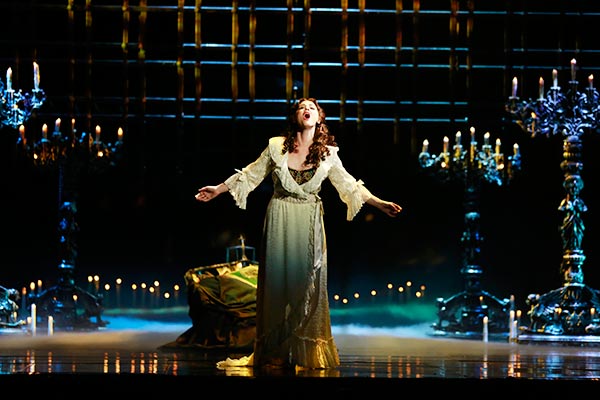 The musical The Phantom of the Opera is touring Guangzhou and Beijing, and the 90 million yuan production is one of the most expensive to target the country's growing market for musicals. [Photo/Guangzhou Opera House]
Challenges remain
But China's musical industry is short on facilities and talent, including performers, technicians and producers, according to Tian.
Her company and Really Useful Group had planned to coproduce the Chinese version of The Phantom of the Opera after the success of the Chinese version of Cats in 2012.
"I found it difficult to find Chinese actors and actresses who were skillful enough to handle the long, difficult arias and were dedicated enough to stay energetic and expressive while performing eight shows a week," Tian says.
In one scene from the musical, Christine hits a high note when singing with Phantom. It is said that Webber wrote the challenging aria to showcase the great voice of Sarah Brightman, his wife at the time, who played the soprano in the original cast.
It set the bar high for all other actresses to be cast as Christine.
The Phantom, the center of the drama, is an especially demanding role. But Brad Little, an American musical theater actor who has played the role over and over again, blew away audiences in Guangzhou on the first night with his performance.
"The characters in the story speak internationally and speak to the human heart," Little says.
Lin Jun, 25, is one of the musical's fans. She first watched the show in London, then followed it to Hong Kong and finally had the opportunity to watch it in Guangzhou, her hometown.
"I always get new feelings each time I watch it," says Lin, who is a local TV reporter.
"The production staged in Guangzhou was as good as those I watched in London and Hong Kong. I was surprised that the musical was so popular in Guangzhou on its first visit to the city."