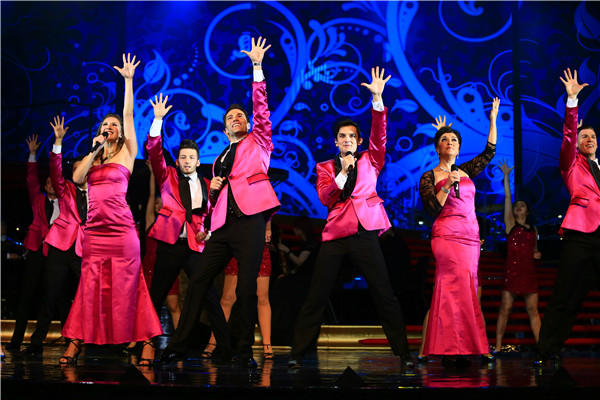 The musical Ultimate Broadway is back in Shanghai, with new songs and new actors. [Photo provided to China Daily]
When Ultimate Broadway, a gala musical theater show in Shanghai, held an audition for 10 ensemble members in London, nearly 1,000 applicants turned up.
Show director Paul Warwick Griffin, a veteran of musicals in the West End of London, says that proves the reputation of the show.
Ultimate Broadway was created in 2011, when Shanghai was launching a new theater venue, Shanghai Culture Square, especially for musical performance. The show was such a success that it made a comeback in 2012.
Three years later, Shanghai Culture Square has teamed up with the original creative team led by Griffin, to create a third edition of Ultimate Broadway.
"We are careful to look after the reputation of the show," Griffin says. "When we say we bring the best, we bring the best. We never falter on that."
The four leads will be Summer Strallen from West End, Wesley Taylor from Broadway in New York, and Matt Rawle and Ria Jones, who both enjoy long-standing popularity in London.
Strallen is well-known for her role as Meg Giry in Andrew Lloyd Webber's Love Never Dies, the sequel to Phantom of the Opera.
Taylor is "one of the most exciting young stars on Broadway", Griffin says. His musical career started in 2008, in See Rock City and Other Destinations. The popular TV show Smash has made him known internationally.
Rawle is a veteran of the West End, performing leading roles in Evita, Zorro and Miss Saigon. Griffin described his style as "classical" and "light tenor".
Jones is the only actor who has played in all the three editions of Ultimate Broadway. She was discovered by Webber at the age of 19, and became the youngest actress to play Eva Peron, the lead role in Evita.
Three rising Chinese stars are being introduced in the show this year. Yvette Ling, Eva Liu and Liam Liu have all been active in the Chinese musical scene for the past few years.
In order to further engage local talent, Ultimate Broadway also recruited a Chinese ensemble of 20 people, as well as a children's choir from Shanghai.
One of the aims of Ultimate Broadway is "to create a platform for local artists, technicians and creatives to work alongside those we bring in from elsewhere, who have the benefit perhaps of a little more experience because they have been based in New York, London, and so on", Griffin says.
The working process will act as "a little bit of training, a little bit of inspiration", and "there is no doubt in my mind that China is going to be a very exciting place to be in the world of musical theater within the next five years".
With original set designs from GWB Entertainment, an international production company based in Britain and Australia, Ultimate Broadway will be a showcase for the theater facilities.
The stage will be spinning, going up and down, with fountains spraying and a hoisting system for mid-air acrobat stunts.
These facilities are so extraordinary that even theaters in London and New York "could only dream of them", Griffin says.
Half the songs in the current production are new-a fine balance with the classic favorites, Griffin says.
For example, audiences will hear a song from Finding Neverland, which has just opened on Broadway.
Shanghai is the strongest market in China by far, he says, with a more developed sense of musical theater as well as a more developed fan base and understanding of the market.
"For the industry to grow, it has to very quickly embrace the work of some of the greatest new writers. These are the people whose work needs to be heard here, so maybe one day these new plays will be presented in China in full-length."
If you go
7:15 pm, through Sept 27; 2 pm, Sept 26-27. Shanghai Culture Square, 597 Fuxing Middle Road, Xuhui district, Shanghai. 021-6472-6000.