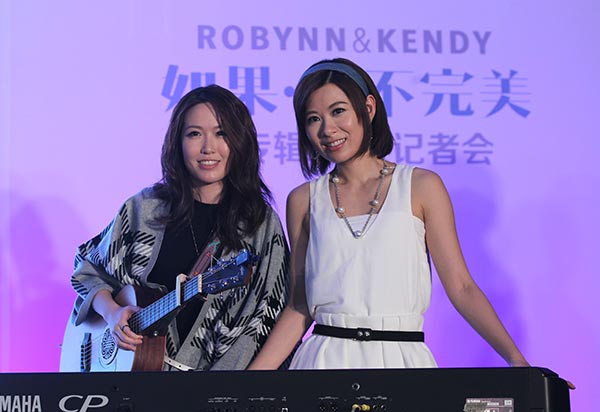 Robynn (right) and Kendy. [Photo by Zou Hong/China Daily]
Hong Kong-based musicians Robynn and Kendy released their first Mandarin album, titled If I Am Not Perfect, in Beijing on Sept 16.
The duo — Robynn Yip and Kendy Suen — became popular on the mainland in 2014 after participating in The Voice of China, a reality TV show.
The Mandarin album features nine songs ranging from rock tunes to love ballads that were written and composed by them in the past three years. It also has them collaborating with Hong Kong indie band Killer Soap and singer Tang Siu-hau.
The musicians, both aged 29, had launched their individuals performances via YouTube in 2011 before their partnership began the same year. Their previous videos, such as the performance of JJ Lin's song, She Says, and Leehom Wang's song, The Things You Don't Know, won them many fans online.
Yip started learning the piano and singing when she was child. She started songwriting in high school and graduated with a psychology degree from Northwestern University in the United States. Suen is a classically trained musician and a graduate of London School of Economics.
The two met in Hong Kong in 2011 and decided to launch the two-woman band. They signed Universal Music Hong Kong in early 2012 and so far they have released four Cantonese albums.
Related: