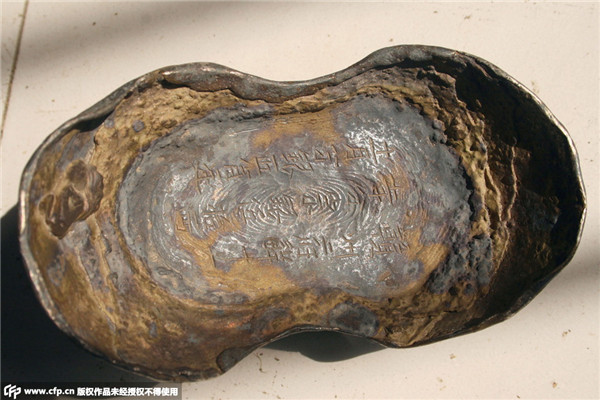 File photo shows a piece of silver ingot found at an historic site where Zhang Xianzhong's treasure ships sank. [Photo/CFP]
Legends about mysterious treasure are nothing new, but a crackdown on a major cultural relics theft and selling case in Pengshan county of Southwest China's Sichuan province may disclose a local hidden treasure.
Sichuan police cracked the case in Meishan on Sept 14 and experts estimated that some of the involved antiques are national level relics, including a gold lion and gold seal, which are valued at over 100 million yuan (about $15.7 million).
Curiously enough, these precious relics were soon associated with the legendary lost treasure of Zhang Xianzhong more than 300 years ago.
Zhang was the famous leader of a peasant uprising toward the end of the Ming Dynasty (1368–1644). He led his army in rebellion against Ming authority, conquered Chengdu, and proclaimed himself king of the Daxi Dynasty.
Legend says that with the invasion of the Manchus after the fall of the Ming Dynasty in 1644, Zhang escaped Chengdu with scores of his men and treasures accumulated over the years in a large number of ships, trying to break out of an encroachment in western Sichuan. However, in the course of fleeing, Zhang and his men were ambushed by local warlord Yang Zhan, causing full ships of gold and silver to sink to the bottom of the river.
For hundreds of years, the whereabouts of Zhang's treasure remained a mystery. If the cultural relics involved in the case are confirmed to be connected with Zhang, it will prove that the legend is true and the treasures are lost somewhere in the Penshan section of the Minjiang River.