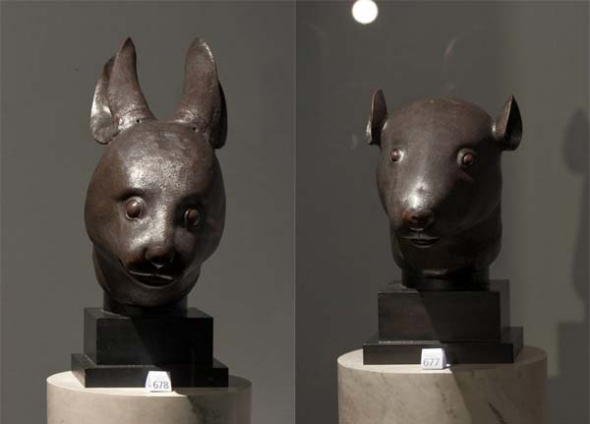 Sculptures of a rabbit head and a rat head from Beijing's Yuanmingyuan Garden. [Photo provided to China Daily]
China has established a special platform to facilitate the reclaiming and trade of cultural relics lost overseas, local Beijing newspaper The Mirror reports.
There have been at least 10 million Chinese artifacts illegally transported overseas in the past centuries.
Some were stolen and looted by foreign invaders and some were taken out of China through trade and smuggling, experts say.
Due to historic and market restrictions, many Chinese cultural relics abroad were prohibited from entering into circulation or from being traded in the market.
The new platform, established at the National Base for International Cultural Trade, will leverage the base's preferential policies to display and trade cultural relics.
Working like a "green passage", the platform will provide services that include relic identification, preservation, storage and delivery. China's museums, state-owned antique shops and private collectors can use the platform to purchase or retrieve lost cultural relics based overseas.
The platform is also expected to regulate the trade of cultural relics, making it easier and safer to reclaim such treasures.