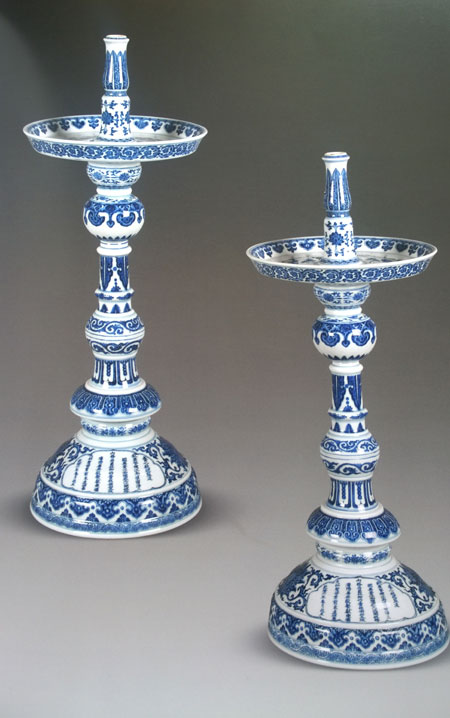 Underglazed blue candle holders, kept by the Victoria and Albert Museum, are featured in the newly published Selected Overseas Chinese Cultural Relics. [Photo provided to China Daily]
Lin Shuzhong (1926-2014), a professor with Nanjing University of the Arts, visited many museums in the United States in 1985. He was on a yearlong assignment to teach the history of Chinese painting at a university. He came across collections of rare and ancient Chinese paintings and antiquities at US, and later, other foreign museums. He kept a record of what he saw.
For dozens of years he traveled extensively across Asia, the US and Europe. His findings were published in an eight-volume series in 1996, which introduced more than 2,000 Chinese paintings to his readers.
Lin's efforts raised public awareness on the status of Chinese relics abroad.
His work motivated specialists in the field to take more concrete actions, for instance, building a data base of remains of China's cultural heritage on foreign land.
The recently published first volume of a book series titled Selected Overseas Chinese Cultural Relics, initiated by National Museum of China in 2005, does just that-catalogs Chinese artworks kept at major world museums. The series begins with the Victoria and Albert Museum.
The London-based institution has a collection of 18,000 Chinese antiquities and 195 pieces/sets of it are featured in the book. It also contains high-resolution pictures and introductions written by the two museums' scholars that include sites from where the exhibits had been excavated.
It introduces collectors whose donations greatly enriched the treasure trove. One such person was Stephen W. Bushell (1844-1908), an English physician who arrived in Beijing in 1868 and spent nearly three decades in China thereafter.