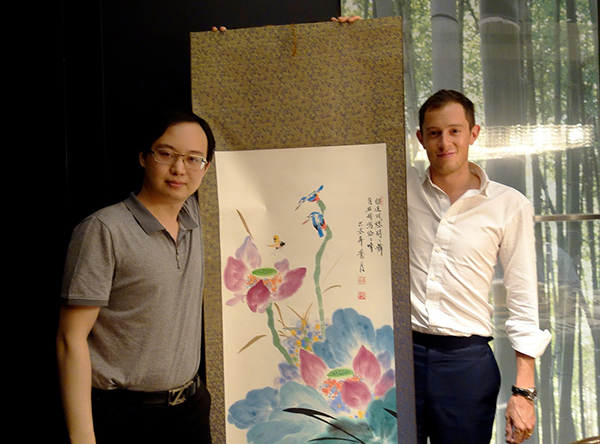 James Rothschild (right) holds a piece of Chinese artist Huang Yue's color ink painting. [Photo provided to Chinadaily.com.cn]
James Rothschild, heir of Rothschild family, added Chinese artist Huang Yue's color ink painting into his collection on Sept 7, 2015.
Chinese artists have a traditional way of using ink paintings to express the beauty of flowers and birds, but artist Huang Yue carries on the tradition with Western-style oil and color ink.
Huang Yue's paintings exist somewhere between the Chinese traditional ink paintings of flowers and birds and the Western-style oil paintings, and it's completely new and innovative.
Nearly 20 of Huang's pieces have also become a part of the Rockefeller family's collection. Steven C. Rockefeller Jr. and Kimberly K. Rockefeller both spoke very highly of Huang's work.
The Rothschild, one of the wealthiest families worldwide, has achieved renown as the most important bankers in the world. The family has long been associated with appreciation of culture and patronage of the arts.
The Rothschilds have given an estimated 50,000 works of art to public institutions. One of the finest single pieces of art from a Rothschild collection, The Astronomer by Johannes Vermeer, is a treasure at the Louvre in Paris.