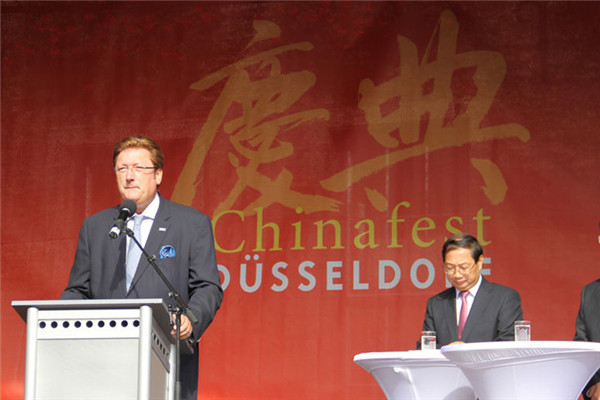 The fifth China Festival kicks off in Dusseldorf. [Photo/CNTV]
As China continues to scatter its cultural seeds across the globe, one place that is bearing fruit is Düsseldorf, on the banks of the Rhine in Germany. The city is celebrating its fifth China Festival, and Taichi is among the offerings.
Music, stage performance, and culinary treats are among the offerings in front of Düsseldorf's town hall. But it was a performance of Taichi that kicked things off.
Organizers are looking forward to further cultural exchange between the two countries.
Thomas Geisel, Mayor of Dusseldorf, said: "This China Festival gives people an opportunity to know many facets of this country. Many, many people are coming. They are interested in what the festival is offering. It's the fifth time, and we are certainly going to continue that."
The China Festival in Dusseldorf was initiated in 2011 and has become an increasingly important platform of friendly exchange. More than 30,000 people are expected at this year's event.