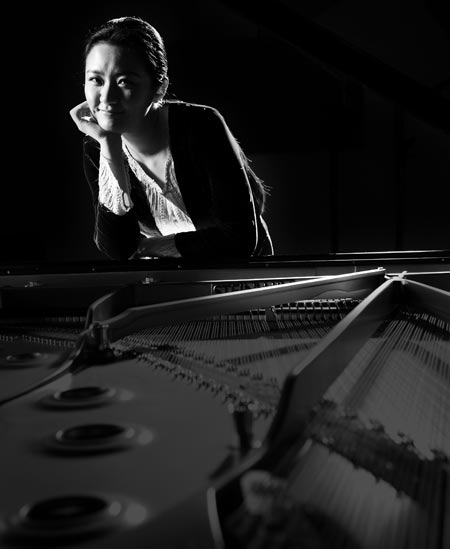 Pianist Yuan Fang is known for her performances of Beethoven's concertos.Provided To China Daily
Lying on his death bed, Beethoven talks about composition to Anna, a young conservatory student and composer. As he waves his hands in the air to make a point, the sun sets outside his window, with cornflowers visible in the horizon.
That's the final scene from Copying Beethoven, a 2006 film that depicts the last years of the German composer's life.
It is also one of Chinese pianist Yuan Fang's favorite movie scenes. That's because performing Beethoven is the 33-year-old pianist's specialty.
Yuan has collaborated with renowned global conductors, such as Zubin Mehta and Lawrence Foster.
Since 2001, she spent several years studying with German pianist Gerhard Oppitz while majoring in piano and chamber music at the Munich's University of Music and Performing Arts.
"I can still recall the first summer when I arrived in Munich to visit my teacher. I walked on a road flanked by cornflowers, just like the scene in that movie," says Yuan.
"At that moment, I felt so close to Beethoven."
On Aug 23, Yuan joined hands with the BBC Symphony Orchestra and released an album titled Yuan Fang Beethoven Piano Concertos No 1 & 4 in Beijing.
Yuan says that she got the invitation from the BBC Symphony Orchestra in the summer of 2014 and proposed performing two of Beethoven's piano concertos. The recording was finished within three days in January in London.
Oppitz hailed her performances on the album as "bringing the spirit of composers to life".
Yuan says: "Beethoven's Piano Concerto No 1 is more like me. It sounds positive and natural. Piano Concerto No 4 is vibrant and full of life."
Yuan was born in Shenzhen and started learning piano at age 4.
Since she came to Beijing and joined the middle school affiliated to the Central Conservatory of Music at age 11, Yuan grew fond of Beethoven's works, which she describes as "full of human emotions and comforting soul".
Yuan chose to study in Germany because of Beethoven.
"Just imagine that you are playing your instruments with Beethoven's manuscript," she recalls violinist Anne-Sophie Mutter telling her and her schoolmates on an earlier visit to their music school.
Oppitz, 62, is also a pilot and loves to fly on his plane to concerts. He and his wife flew with Yuan when they traveled from Munich to Prague in 2004 to perform. They played Dvorak's Piano Concerto with the Czech Philharmonic under the baton of Kurt Masur.
During her last three years studying in Germany, Yuan toured with the MHM Piano Quintet in China and abroad.
Yuan returned to China in 2008 to become a professor of piano at the Central Conservatory of Music.
At 27, she became the youngest professor ever appointed there.
She calls music an indispensable part of her life and delivers that message to her students.
chennan@chinadaily.com.cn