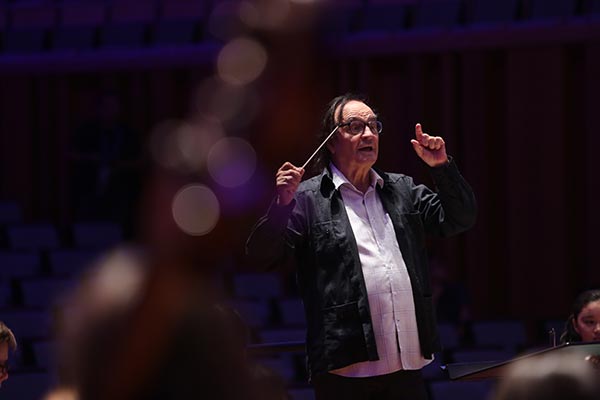 Jiang Dong / China Daily
It's hard to believe it's a 79-year-old's schedule-flying around the world twice in one month, including a 14-day tour in China, and spending just two days in each city.
But that's what maestro Charles Dutoit just did.
After conducting two concerts by the New York Philharmonic Orchestra at Central Park on June 18 and 19, he flew to Geneva.
He next went to Shanghai, where he closed the Shanghai Symphony Orchestra's 2014/15 season on June 28, and then performed with the New York Philharmonic on July 5, at the Music In the Summer Air festival there.
He then returned to New York to conduct the National Youth Orchestra of the USA at Carnegie Hall on July 11. The following day, he traveled back to Beijing to tour the country with the NYO, finishing in Hong Kong on July 26.
The day after, he flew to Switzerland for the Verbier Festival's closing concert. He's now with the Boston Symphony Orchestra at Tanglewood in Lenox.
Dutoit will return in April for two weeks with the Shanghai Symphony Orchestra.
"I've been traveling all my life," Dutoit tells China Daily in Beijing.
"As a conductor, I've performed some 130 concerts a year and at least about 50 on tour.
"I enjoy working with young people."
The NYO-USA is an annual training program founded by Carnegie Hall's educational arm, the Weill Music Institute.
"Maestro Dutoit has great experience in working with young professionals," Carnegie Hall's public relations director, Synneve Carlino, says.
"He is the music director of the Verbier Festival Orchestra and also takes care of many training programs in Asian cities, such as Guangzhou and Tokyo."
The Swiss conductor says the main difference is that most of the NYO's students don't major in music and may become lawyers or doctors one day.
"It's incredible to put young people from high schools together," he says.