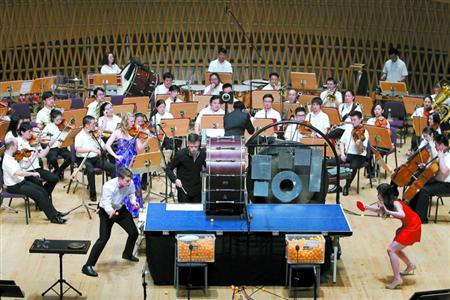 Ping pong players joined musicians on stage in Shanghai during a concert by Andy Akiho. [Photo/Agencies]
A ping pong table and two professional players joined musicians on the stage in Shanghai Saturday night, marking a bold move by American composer Andy Akiho.
The Ping Pong Concerto, which debuted at the closing ceremony of Shanghai Music Festival, combined the rhythms of a bouncing ball with violins and percussions.
Akiho said the ball was a unique musical instrument and its bouncing was in perfect harmony with string instruments.
The New York-based composer said he had always wished to combine the rhythms of sport into music.
His idea was applauded by Yu Long, artistic director and conductor of Shanghai Symphony Orchestra, who invited Akiho and his team to the Music Festival, a 15-day event in Shanghai.
Among the team members are US ping pong players Michael Landers and Ariel Hsing, violinist Elizabeth Zeltser and percussionist David Cossin.
Hsing, an American of Chinese descent, said she began playing ping pong at seven, but it was the first time for her to play in a dress and high heels.
Instead of hitting for scores, she was requested to play in tune and target the ball at the bass drum from time to time to create different sound effects, she said.
Hsing said the combination of ping pong and music was a unique way to merge sport and art, a bold try that would arouse curiosity among the Chinese and Americans alike.
Akiho said his team would improve the work back in the States and would hope to play the concerto at a stadium in the future.
The concerto was scheduled to be staged in Beijing this fall.
Akiho is an innovative composer of classical music. He gained his knowledge of rhythm and percussion through exploration of the steel pan.
He is also working on a Ph.D. in composition at Princeton University.
Related:
Miserable Faith to happily kick off national tour