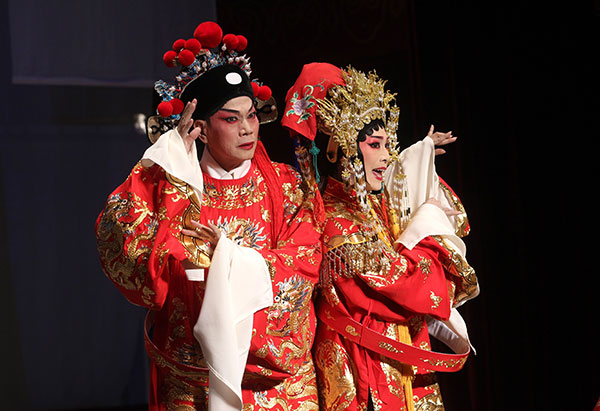 Law Kar-ying (left) plays the lead role in the Cantonese Opera Three Dreams, which was recently staged in Beijing. [Photo by Zou Hong/China Daily]
When Hong Kong actor Law Kar-ying appears in public, his physique and mannerisms usually remind people of a role he played in the 1994 movie A Chinese Odyssey. The character was that of Xuanzang, a monk who traveled to India to collect Buddhist scriptures.
The hit comedy was loosely based on the classic Chinese novel Journey to the West.
Law has acted in nearly 100 movies since the 1990s, such as Crime Story in 1993 along with Jackie Chan and Future X-Cops with Andy Lau in 2010.
Yet, the 68-year-old actor says his aspiration is rooted in the centuries-old art form: Cantonese Opera.
Along with veteran Hong Kong actress Mai Suet and Cantonese Opera singer Cheng Wing-mui, Law recently performed one of the lead roles in an experimental Cantonese Opera, titled Three Dreams, in Beijing's decades-old Daguanyuan Theater, where traditional Chinese opera shows are often held.
In the recent show, Law wore long red robes and heavy makeup, and sang the rhythmic Cantonese Opera taking the audience back to ancient times.
Initiated and produced by a group of young Cantonese Opera students from Beijing-based National Academy of Chinese Theater Arts, the show was adapted from three classical works of the famous Cantonese Opera scriptwriter Tong Dik-sang (1917-59) - The Flower Princess, Revival of Red Plum and Mistaken Dream of West Chamber.
The three stories revolve around the romance between human beings, ghosts and fairies.
"I spent much time in movies and TV series. But whenever I have the time, I will return to Cantonese Opera. It's important to me," says Law, who is also the artistic director for the show.