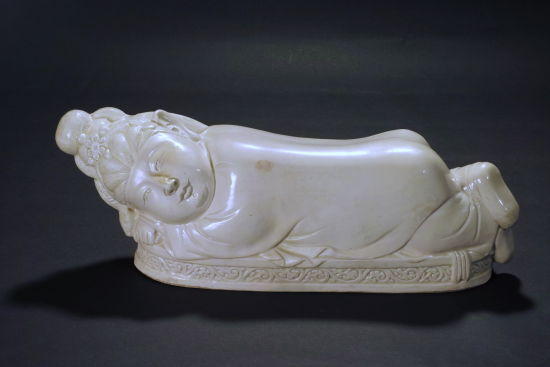 It isn't comfortable to rest your head on, and it wouldn't be wise to have a pillow fight with it but it sold for 316-million yuan nonetheless.[Phot/CNTV]
A porcelain pillow was sold for 316 million RMB at an auction in southern China's Macao Special Administrative Region Saturday.
The well-preserved pillow is 43 centimeters long and 15.5 centimeters high. It was produced by the Ding Kiln, one of the five most famous porcelain kilns in the Song Dynasty, which ruled China from A.D. 960 until A.D. 1279.
The item's starting price was about 8 million yuan, and it received more than 60 bids.
The auction was finally won by a buyer from southwest China's Guizhou province with a bid of 280 million yuan. With commission included, the final price was about 316 million yuan—almost US$51 million.
"This Ding porcelain pillow was sold at the highest ever price for a single piece of art at any auction in Macao. It was also the highest price anywhere in the world for a piece of Ding porcelain," said Li Yanjun, Chinese Ministry of Culture.
"We hope this can encourage Chinese entrepreneurs and other Chinese people to buy back our cultural relics from abroad, making a contribution to the development of our cultural industry," said a buyer.
The buyer said that the pillow will be preserved and exhibited in Guizhou.