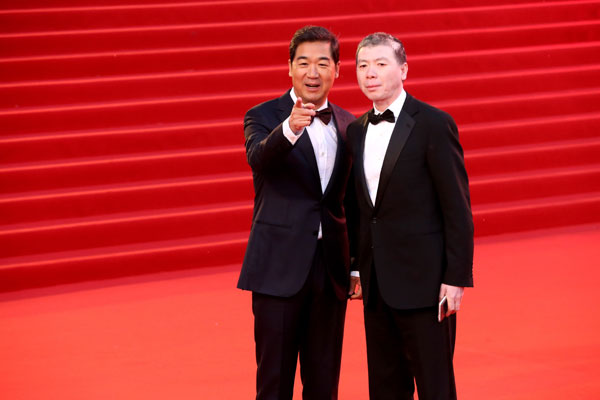 Zhang Guoli and Xiaogang.[Photo By Jiang Dong/China Daily]
Achievable goal
Some big numbers may show the festival's potential and the possibility of its goal.
More than 300 movies selected from more than 1,500 titles from 103 countries and regions are being released in 23 Beijing cinemas and eight universities.
Some of them are making their international debut in China, the world' second-largest movie market with a record box office hitting 29.6 billion yuan ($4.8 billion) last year, up 36 percent year-on-year.
Online ticket-booking statistics show that more than 10,000 tickets were sold in only three minutes after Gewara.com, the festival's authorized site, started presale on April 9, and 4.2 million tickets were sold in the following three days.
Tickets of some US blockbusters, such as this year's Oscar winners Birdman and The Grand Budapest Hotel, were sold out at least two days before the screenings.
The overwhelming response from Chinese moviegoers to the festival, with some attendees claiming on major film forums that they flew to Beijing just for the "precious" chance to enjoy the classical productions on the big screen, makes the 2015 festival the most popular since it was launched in 2011.
Meanwhile, the festival has also reached out to the international movie market.