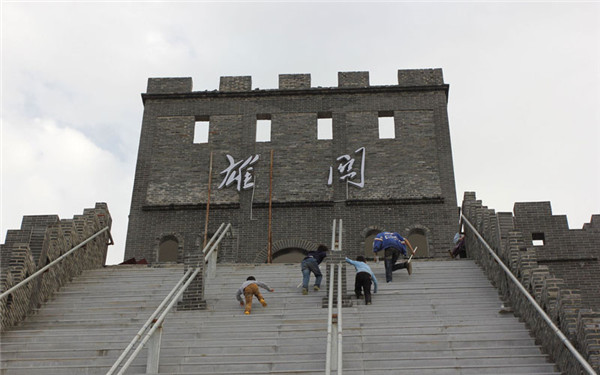 Photo taken on April 12, 2015 shows the Xiong Guan pass of the campus "Great Wall". [Photo/CFP]
A miniature of China's "Great Wall" being built inside a college in Central China's Hubei province has caused controversy.
The Wuhan Institute of Bioengineering is putting 400 million yuan on a 1600-meter long "Great Wall" in campus.
Reproduction is said to be authentic enough to include some of the well known passes like Xiong Guan and Yanmen Guan along the ancient defence establishment in Northern China.
Authorities of the institute said the "Great Wall" will serve not just as a visual effect but also some practical purposes -it will link up the college's two campuses in six months.
Moreover, presence of the Wall itself is a silent education about the country's great cultural heritage, they claimed.
The Wall seemed to be welcomed by both teachers and students of the institute over the obvious convenience it's expected to bring about.
However, critics on the internet have been quick in questioning the lavish spending, which they argue would be more meaningful if used to upgrade school facilities or hire more eligible faculties.