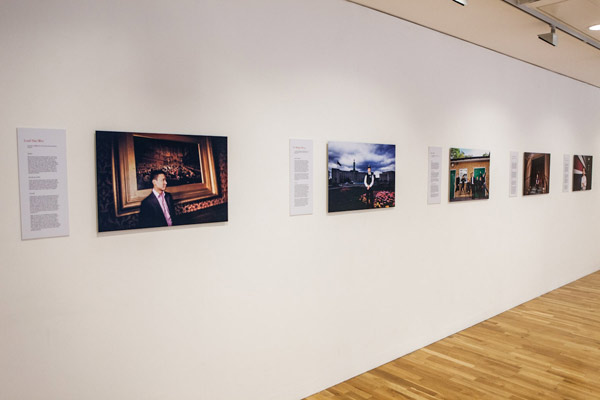 Photos are on display at the 'Between East and West' Exhibition in London. Provided to China Daily
Tsang said that working on the project has helped him to better understand his own identity, and that of his Mauritian-born parents. His grandparents moved from China to Mauritius to create a better living for themselves, and his parents have since then moved to the UK.
"Although my parents have never visited China, they identify with Chinese culture, practice many Chinese traditions, and celebrate many Chinese cultural festivals. They consider themselves to be Chinese," Tsang says.
He says such an identity is also present in many of the second generation Chinese migrants that he interviewed, because cultural values and traditions are passed down the generations.
Like many second- and third-generation British-born Chinese children, Tsang's upbringing made him value academic achievement. After completing a mathematics degree from the University of Warwick, he worked in professional services for five years, before deciding to become a photographer.
Tsang has visited China once, backpacking in South and West China, although he felt he was too young at the time to experience the country's cultural connection with himself.
He has also been to Mauritius five times, the first time when he was two years old. In recent years, he has also taken many photographs in the country, and says he would like to do more photography projects there.
In addition to "Between East and West", Tsang is also working on a project called South Bank Stories, which features photographic portraits accompanied by oral history interviews, that document the changes of London's South Bank, an area that has undergone significant transformations over the last generation. The exhibition will be shown this summer.
"Between East and West" will be shown at Atrium Gallery, OId Building, of the London School of Economics and Political Science from February 23 to April 1, 10am-8pm, Monday to Friday.