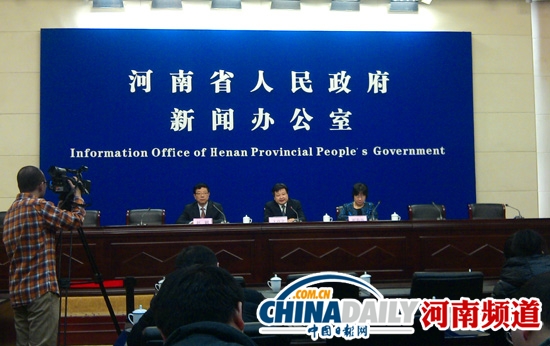 A press conference for the Fifth Cross-strait Chinese New Year Temple Fair is being held in Zhengzhou, Henan province, on Jan 21, 2015.[Photo/chinadaily.com.cn]
The Fifth Cross-strait Chinese New Year Temple Fair will be held in Taichung, Taiwan from Feb 19 to Feb 22, the first five days of the lunar year. The temple fair is a social gathering in China, where people worship the gods and pray for blessings while enjoying the festivities.
This Temple Fair is being held by the China Friendship Foundation for Peace and Development, China Friendship Association of Cultural Circles and Henan People's Association for Friendship with Foreign Countries. It is organized by the Tanglong Art Co. Ltd in Taiwan. It was first held in 2011 and now is the most important cultural activity in Taiwan.
The temple fair will have five components showcasing the charm of Henan's culture, including local folk performances; folk arts and crafts shows; a specialty food fair; a photography, painting and calligraphy exhibition and a porcelain exhibition.
There are various kinds of performances, including Shaolin kung fu and Yu Opera of Henan, which are known around the world. Also, one can find traditional arts and handicrafts as well as 16 kinds of tasty local snacks. For visitors in Taiwan, it is a good opportunity to experience the colorful culture and tradition of Henan province and Central China.
The temple fair also will showcase Taiwanese performances and snacks.