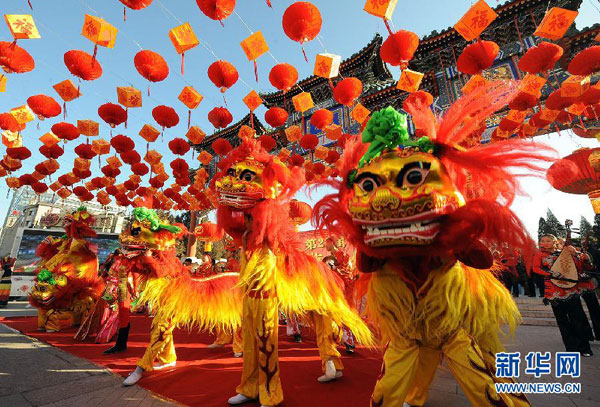 Lion dancing is one of the staple performances held at the Temple of Earth in Beijing every year. In this file photo, taken in 2012, lion dancers put on a performance for the gathered crowds. [Photo/Xinhua]
As part of a series of events to help ring in the upcoming Chinese New Year, the annual temple fair at the Temple of Earth in Beijing will be taken abroad for the first time. The inaugural event will be held in Bangkok, capital of Thailand on Feb 10, 2015.
The temple fair is a social gathering in China. Legend has it that the fair originated in ancient times when people offered sacrifices to village deities, and the ritual's location gradually evolved into a marketplace for people to exchange goods as well as stage cultural performances.
At a temple fair, people worship the gods and pray for blessings while enjoying the festivities. Traditional shows such as banner waving, kung fu exhibitions and lion dances all are staple features of the fair.
The temple fair in Bangkok will consist of four sections, Chinese intangible culture heritage, Peking's time-honored brands, folk customs, and traditional culture performances. The show is designed to provide the Thai people the traditional Chinese culture experience in their own backyard.
Thai people will be able to get a closer look at Chinese intangible culture heritages such as choisonne products, carved lacquerware, paper-cuts, and interior painted snuff bottles. At the time-honored brands section, they'll get a look at traditional Chinese medicines from Tongrentang and Peking roast duck from Bianyifang.
Folk handicrafts like sugar painting, clay figurines and cultural performances like acrobatics and Beijing opera will also be at the event for the visitors.
The week-long activity, which lasts from Feb 10 to 16, is co-supported by Chinese Ministry of Culture, Thailand's Ministry of Culture, and Chinese Embassy in Thailand.