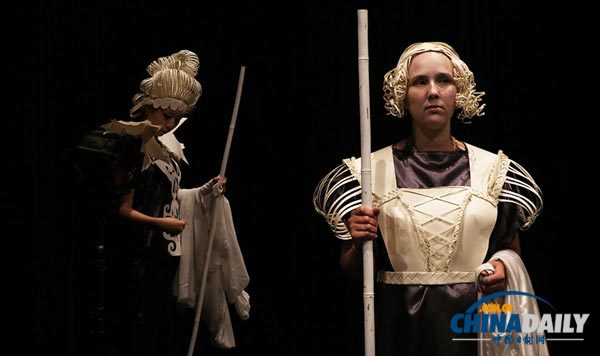 Participants perform during the Beijing International Biennale. Wang Jing / chinadaily.com.cn

In its third year, Beijing International Biennale, which was held from Oct 10 to 14 at the Central Academy of Drama in

Beijing

, aroused heated discussion.
With 63 students and professors from stage design departments in 16 countries, the event not only displayed works in an exhibition but also had students of mixed cultures working on one project under the theme, "Silk Road".
Each group of students displayed their works onstage on the last day of the Biennale and Yulia Pichugina, a student from the Moscow Academy of Theater Arts, won the top award, Best Young Designer, which was selected by a jury panel composed of members from the International Organization of Scenographers, Theatre Architects, and Technicians (OISTAT).
In the eyes of Sun Daqing, professor and director of the Stage Design Department at the Central Academy of Drama, who has been working in China's stage design field for over 20 years, the industry has developed very fast as the country's economy boomed during the past 10 years. However, he also said that some problems have hindered the future progress of the industry, especially when art has been way too commercialized and deviated from its core value.
"Stage design should work for the roles and stories but China's theater production has ignored it. Many stage design works, including costumes and lighting, focus on big-budget production and use of high technology to seek eyeballs," says Sun, who initiated the Biennale around four years ago to give a different perspective about theatrical art and design to young Chinese students by collaborating with OISTAT.