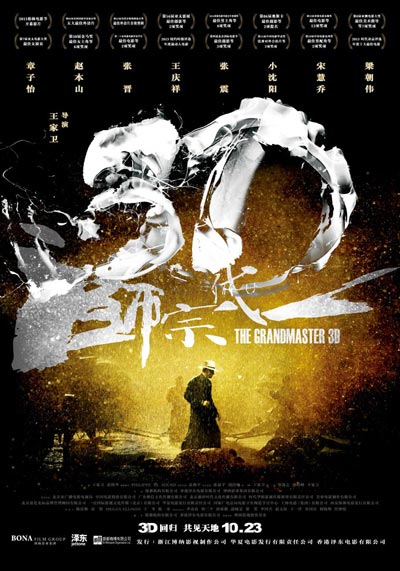 A poster of "The Grandmaster 3D".[Photo/China.org.cn]
Wong Kar-Wai said that the 3D version will be cut very differently from the previous 2D version, so audiences will see more deleted scenes and new material this time, including an exciting top kung fu performance from female master Gong'er (
Zhang Ziyi
). Previous media reports said the "special edition" will resemble the cut made for the US market.
Actress Zhang Ziyi just received the Best Actress prize for her leading role in "The Grandmaster" on Saturday at the 23rd Golden Rooster and Hundred Flowers Film Festival, held in Lanzhou. The film itself won the Best Film Award.
"The Grandmaster" is an epic martial arts drama set against the backdrop of 1930s China and inspired by the life and times of Bruce Lee's master, Ip Man. The movie also tells the stories of other kung fu masters in that chaotic and poetic era. The film was nominated for Best Cinematography (Philippe Le Sourd) and Best Costume Design (William Chang Suk Ping) at the 86th Academy Awards.