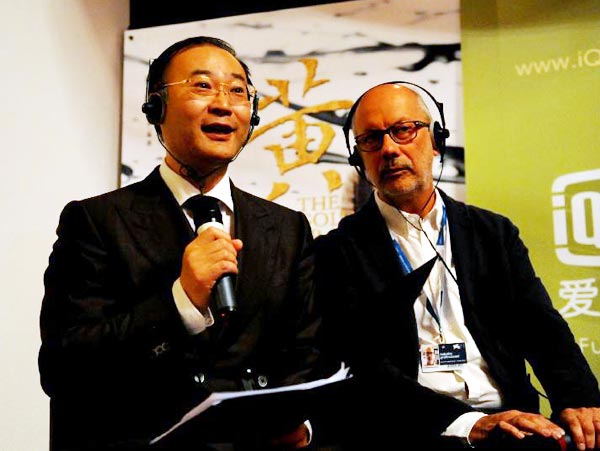 Deputy director of European Headquarters of Xinhua news agency Jiang Yan (L) presides the China Film Forum in Lido of Venice, Italy on Sept 2, 2014. China Film Forum was held here as a part of the 71th Venice Film Festival's Venice Days Unit on Tuesday. [Photo/Xinhua]
Qin said he hoped the forum will serve as a new platform featuring Chinese films at the Venice Film Festival, with an aim to strengthen the voice of Chinese and world valuable directors and inspire the next generation of movie industry practitioners.
Important progress has been made recently to enhance cooperation between China and Italy, Italian film producer Conchita Airoldi said.
"We treasure the collaboration opportunities between the two countries. Just a few months ago, Italy and China signed a co-production agreement, which will bring many new opportunities," she said.
Tuesday's forum was supported by Xinhua International, the Venice Days, an event at the film festival aiming to draw attention to high quality cinema, and ANICA, the association that represents the Italian film and audiovisual industries.
Several Chinese-language films have been presented at the 71st Venice Film Festival, which will end Saturday.
Famous Chinese actress Joan Chen is a member of the international jury that will award the Golden Lion, the highest award given to a film at the Italian festival.
Related: First works bring unique opportunity for young filmmakers: Vivian Qu