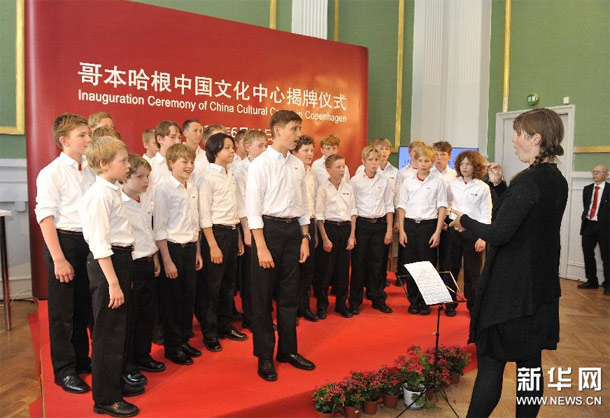 The Chinese Culture Center in Copenhagen was inaugurated on June 11, 2014. [photo/xinhua]
Editor's note: This year, six overseas cultural centers have been inaugurated. The 16th, the Chinese Culture Center in Copenhagen , was officially launched a few days ago. In late June, President Xi and the visiting Myanmar President Thein Sein witnessed the signing of a Memorandum of Understanding on mutual establishment of cultural centers between the two countries.
The development of Chinese Culture Center has entered the acceleration period, drawing great attention from the world. What challenges does the Chinese Culture Center face in the process of construction and development? What role does it play? How can cultural soft power be improved? To find out, reporter from People's Daily recently interviewed Ding Wei, vice minister of the Ministry of Culture.
Reporter: We've noticed that Chinese Culture Center has promoted a series of intensive moves and activities. In your opinion, what rare opportunity does CCC face in its present development?
Ding Wei: Accelerating the establishment of cultural centers is a major initiative and an important means to improve China's cultural soft power and its cross-cultural communication ability. The central leaders have always attached great importance to the construction of Chinese Culture Center. In recent years, the Party and State leaders have made over 40 visits to the cultural centers and the signing ceremonies of government documents. The Third Plenary Session of the 18th Central Committee of the the Chinese Communist Party (CCP) has raised new requirements for the construction and development of cultural centers and has upgraded it to the national strategy. In addition, Chinese people strongly wish to go global while foreigners also expect to learn about China. All of these have provided rare preconditions for the development of Chinese Culture Center.
Reporter: Could you briefly introduce the current situation of Chinese Culture Center?
Ding Wei: Since the first establishment of Chinese Culture Center in Mauritius and Benin in 1988, it has gone through three stages: the exploration stage (1988-2002), the "take off" stage (2002-2012), and the present high-speed development stage. According to the national plan for the Overseas Culture Centers (2012-2020) approved by the State Council, by 2020, we will have established 50 cultural centers. That is to say, before then, we will establish an average of four to five centers every year. So we have entered the high-speed development stage.
| | | |
| --- | --- | --- |
| | | |
| Chinese Culture Centers Abroad | Chinese painting exhibition held in Atlanta, US | Beauty contest held in Torch Festival of Yi ethnic group |