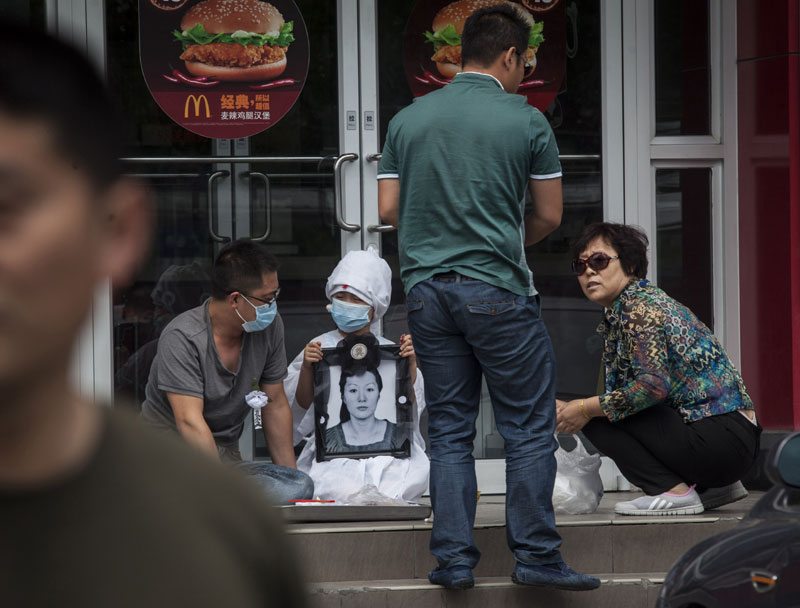 The husband (left, with mask) and son (second to left) of a murder victim, together with other relatives, mourn the death of Wu Shuoyan in front of a McDonald's restaurant in Zhaoyuan, Shandong province, on Tuesday. Wu was severely beaten inside the restaurant on May 28, allegedly by six cult members, and died in a hospital. Kou Cong / For China Daily
The crackdown on the "Almighty God" cult will focus on its illegal activities in Shandong, the Ministry of Public Security said on Tuesday, following the arrest of five members accused of beating a woman to death in the province.
There are no plans to extend investigations nationwide.
"Religious cults recruit and control adherents by fabricating and spreading superstitions and heresies. They use various means to harm people and collect large amounts of money," the ministry said in a statement, adding that religious cults are still finding ways to survive and spread their falsehoods.
Police will target cult activities and people who participate in such movements, the ministry said.
On May 28, a woman surnamed Wu, 35, was severely beaten at a McDonald's restaurant in Zhaoyuan, Shandong, allegedly by six members of a religious cult calling itself the "Almighty God". She died in a hospital.
According to Zhaoyuan police, the accused, including four members of the same family, attacked the woman after she refused to give her phone number to the group, who were collecting numbers to recruit members.
Religious materials and books had been found at their residence, the police said.
Police have arrested five people on suspicion of intentional homicide. The sixth suspect, a minor, will be dealt with separately.
According to the ministry, the "Almighty God" cult started in Henan province in the 1990s and spread to other parts of the country.
Southern Metropolis Daily reported that the group promoted a philosophy based on a distorted reading of the Bible and was banned as a cult by the government in 1995.
Zhao Weishan, the founder and mastermind of the group, fled to the United States in 2000.
In December 2012, 17 members of the group were arrested in Beijing for harassing people in a park with claims that the world was coming to an end.
The attack last week has shown that the cult poses a major threat to life and property and undermines social stability, according to a statement on Tuesday by the China Anti-Cult Association.
"The 'Almighty God' members are tightly controlled by a set of disciplines, which order members to fully obey their leaders," it said.
Wang Yusheng, a deputy chief of the association, said that such evil cults are anti-human.
China has listed and banned 14 cults and their activities. Some of them have resorted to underground operations.
"The authorities should expose the nature of these cults and crack down on their illegal activities in line with the law," Wang said.
Contact the writers at zhangyan1@chinadaily.com.cn and anbaijie@chinadaily.com.cn.