North China's Hebei province launched a ceremony on April 25 in Langfang city to promote tourism to its ancient towns and villages.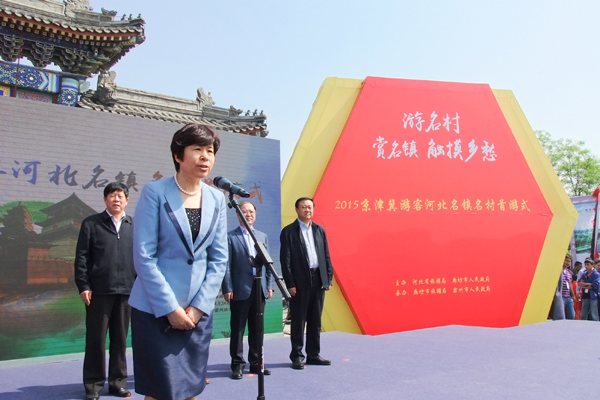 Qin Boyong, vice-governor of Hebei province announces the tourism campaign in Shengfang ancient town in Langfang city of Hebei province on April 25. [Photo by Liu Xiang/ China Daily]
In order to further accelerate the development of historical and cultural tourism in Hebei, the Hebei Tourism Bureau and Lanfang Government invited tourists from Beijing, Tianjin, and Hebei to visit the ancient towns and villages on April 24 and 25.
Hebei introduced tourism resources, recommended routes and held painting exhibitions and folk culture performances during the unveiling ceremony.
As an important part of Chinese culture, the historical and cultural towns and villages represent the long and rich progress of Chinese culture. The ancient towns are major pillars of Hebei tourism.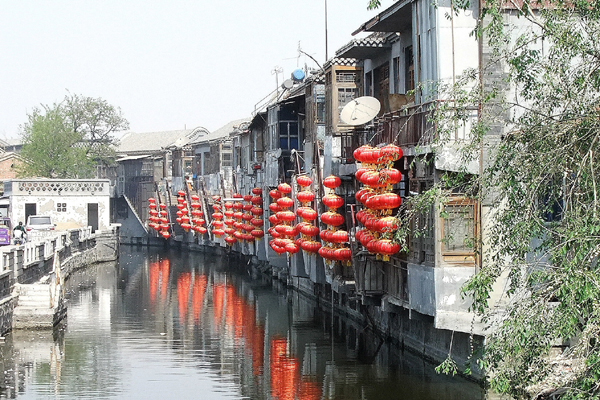 Shengfang ancient town in Hebei province on April 25. [Photo by Liu Xiang/ China Daily]
Shengfang was named "Suzhou and Hangzhou of North China". The Qing Dynasty Emperor Qianlong (1711-1799) visited Shengfang three times.
Shengfang became famous for wide water, beautiful reeds, and lotuses dating back to the Northern Song Dynasty (960-1127). Shengfang has been recorded in many famous articles and poems.
Integrating the beauty of the plains in North China and the rivers in South China, Shengfang is a town based on water that combines agriculture and ancient Chinese culture. The town was first recorded in the Spring and Autumn Period (770-476 BC).
Tourists can find ancient manors, theatrical stages, memorial archways, and chambers of cultural prosperity in Shengfang town. The town also has rich folk culture.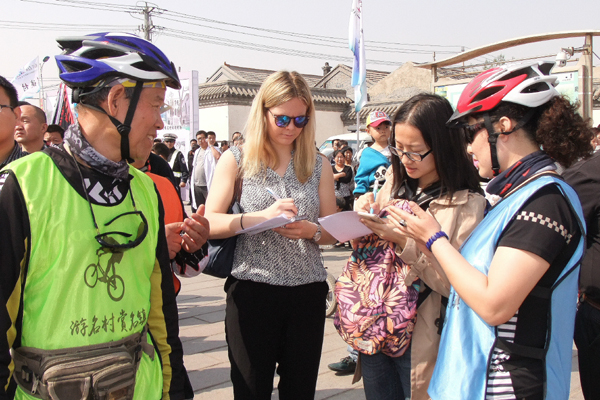 Bicyclists from Beijing and Tianjin attend the ceremony of the tourism campaign on April 25. [Photo by Liu Xiang/ China Daily]
Hebei has 48 historical towns and villages, 20 at the national level and 28 at provincial level.
A total of 16 ancient towns and villages in Hebei have developed tourism, including Guangfu ancient city, a former military headquarters in Chian village, the Tunnel Warfare Memorial Hall, Wang's Manor in Baoding, and ancient hot springs in Zhangjiakou.