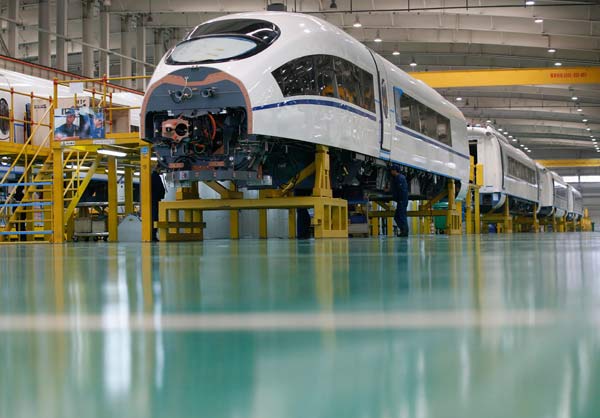 An employee works on a high-speed train model CRH380B at a final assembly line of China CNR's Tangshan railway vehicle factory in Tangshan, Hebei province, on Wednesday. KIMKYUNGHOON / REUTERS
Chinese high-speed train companies are eyeing more contracts in overseas markets.
"The US will be the next strategic focus for us, after successfully winning the Boston contract," Yu Weiping, vice-president of China CNR Corp, told China Daily on Wednesday.
CNR won a 4.12 billion yuan ($659 million) contract last year to supply metro cars to Boston's subway system, the first US rolling stock order with a Chinese company.
"At least part of the metro cars will be assembled locally," said Yu, who is in charge of the company's overseas business. The company is exploring more opportunities in cities such as New York and Washington.
CNR also won a contract last year to supply 232 diesel locomotives to South Africa. Yu said the company will establish local manufacturing companies and create jobs for local employees.
Li Wen, deputy general manager of the corporate business department at the Export-Import Bank of China, said on Wednesday that the bank is involved in promoting a group of important railway projects, including a high-speed train project in California. Li said at the end of January that the bank had provided $13 billion in loans to 35 overseas railway equipment export and rail construction projects.
CNR and CSR, China's major high-speed train manufacturer, have announced a plan to merge to become the world's largest train manufacturer. Shareholders will vote on the move on March 9.