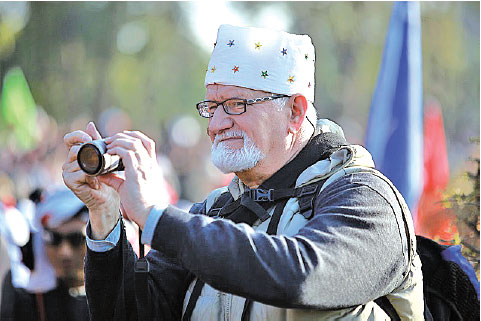 Corrado Politi attends a tourism festival in Dehong, Yunnan province.Huang Daxiang / For China Daily
The retiree says the southwestern province is a magical land
Corrado Politi, a 75-year-old Italian travel expert, has a white beard, a bulbous nose and a jolly smile. The locals often call him Santa Claus or "Grandpa Italy", but he likes to introduce himself as a native of Southwest China's Yunnan province.
Politi received a doctorate in law from the University of Florence. He speaks eight languages and has worked for the European Foundation for Management Development and other nonprofit organizations.
After retirement, Politi began traveling around the world, and China became his favorite destination. He has visited China more than 20 times in the past 15 years, promoting tourism cooperation between Asian and European countries, and was an international adviser for the China Tourism Academy in 2008.
But he had never visited Yunnan province until he was captivated by flower-woven elephants displayed at the Yunnan exhibition area at an international tourism mart held in the country.
Five days later, he found himself backpacking through the province brimming with snow-capped mountains, rice terraces, lakes and deep gorges, and inhabited by a large number of ethnic groups. His first trip only lasted a week due to his visa expiring, but the journey left a lasting mark.
"It is like a fairy tale to me," he said. "After returning home, I still couldn't keep my mind off Yunnan. I read everything about this place and couldn't wait to visit this magical land again."
Since then, Politi has visited Yunnan every year, staying at his friend's home in Taiping town in Kunming, the provincial capital. Although Politi doesn't speak much Mandarin, he still greets his friend's neighbors every time he sees them. During his stays, Politi explores the province with Huang Linwu, director of the Yunnan Tourism Development Committee, who Politi befriended at the tourism mart.
"He has become so familiar with Yunnan culture that we often joke how he is a Yunnan native born in Italy," Huang said.
At the Long Street Banquet, a traditional Jingpo ethnic festival in Yunnan, Politi danced with the locals, wearing a white fez with stars and fur beads. Later, he put on a Jingpo jacket and ate from a basket full of traditional Yunnan food with friends.
Politi said the good weather, clean air and fresh food in Yunnan have worked wonders for his diabetes and hypertension. "But I love the kind inhabitants the most," he said.
Once, during a rainstorm, Politi's car was stuck in mud near a village in Lyuchun county. Local villagers rushed to help and afterward, they declined Politi's offer of money, saying "it is only natural to help others".
"People here are so nice, so welcoming. I wish to do something for them, for the economy," Politi said. In 2013, he became the international marketing adviser for the Yunnan provincial tourism committee, promoting the province on the world stage.
In 2014, the first direct air route between Paris and Kunming was opened. When packing for Yunnan's tourism promotion event in Europe, Politi removed his personal belongings to make room for more pamphlets. At the event, he used fluent Italian and French to introduce Yunnan to travel agents.
Contact the writers at zhangzhihao@chinadaily.com.cn