A 42-year-old Chinese woman has ran six marathons across the world in less than a year, becoming the first woman to complete them in Southwest China's Sichuan province and the third in whole of China.
The six marathons, collectively referred as World Marathon Majors, are held in Berlin, Chicago, New York, Tokyo, Boston and London.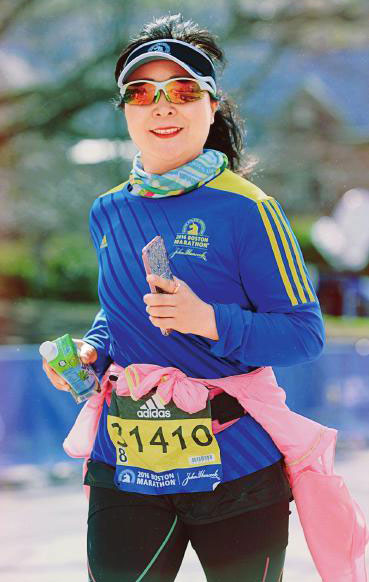 Ding Yan takes part in the Boston Marathon on April 18, 2016. [Photo/chinanews.com]
Ding Yan, 42, received her first Six Star Finisher Medal in Jeju, Republic of Korea, on May 29, 2016, after finishing her London Marathon on April 24, 2016. Before the London Marathon, Ding finished the other five subsequently since Sep 27, 2015.
"I took up running and marathon for the sake of my son," Ding Yan told West China Metropolis Daily.
The woman and her husband used to spend so much time on work that they hardly had any time for their son, who was taken care of by his grandmother.
With Ding and her husband's work going well in 2012, Ding began to spend more time with her son. Then she joined a cycling team with him in the summer of 2012 to strengthen the boy's physical and mental health as well as strengthen the bond between her and her son.
After she took up cycling, she was not disappointed. "After cycling, my son had a stronger body and became more confident while interacting with strangers," Ding said to West China Metropolis Daily.
But the activity, during which she cycled more than 900 km in total, did not just change her son, but also her. She developed a better figure and started looking younger.
After another 21-day cycling event with her husband and their son in Britain in the summer of 2014, Ding realized that cycling alone was not enough. So she thought it's time to find a sports event which she could pursue for a long time.
When her friends suggested running, she joined a team in Chengdu, capital of Sichuan province.
"After talking with the teammates, I got to know that running also needs professional knowledge. And that amateurs, not just professional players, can also take part in a marathon," Ding told the West China Metropolis Daily.
In Nov 9, 2014, she successfully completed her first marathon - Xichang Half Marathon in Sichuan. And in January 2015, Ding spent 4 hours and 19 minutes completing her first full marathon in Xiamen.
Ding's enthusiasm for marathon became stronger as she took part in seven marathons including Beijing Marathon and Kyoto Marathon from March to July 2015.
After gathering enough experience, Ding began to participate in the World Marathon Majors by taking part in the Berlin Marathon on Sept 27, 2015.