Shenyang Marathon waits for pistol shot
(chinadaily.com.cn)
Updated: 2016-07-29
The 2nd Shenyang Marathon is to open on September 10 this year. The pistol shot will be heard at 17:00 and the race will last until 23:00.
The night run will provide an opportunity for the runners to enjoy Shenyang's beautiful evening scenery and help to further promote the city to the world.
The 2016 marathon will display some improvements in various aspects over last year's event, including the competitions, the design of the racing tracks, the event schedule, and the security service. Besides the normal full marathon, half marathon and mini marathon, a 10-kilometer race will be added.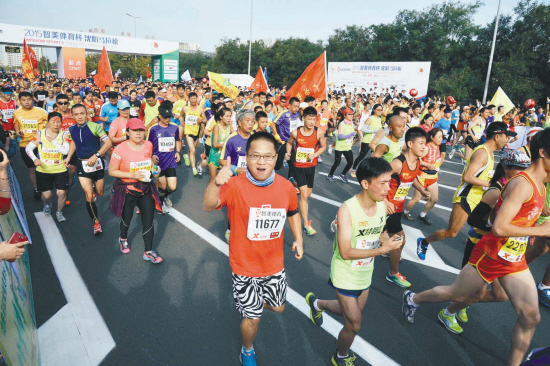 Runners participate in last year's Shenyang Marathon.[Photo/nen.com.cn]
In addition, there will be some fun games like a family run, couple run and races designed particularly for teachers and enterprise staff.
It is estimated that about 15,000 will participate in the international marathon event, of whom 3,000 will join the full marathon, 4,500 the half, 3,500 will take part in the mini marathon and 4,000 will run the new 10-kilometer race.
The Sports Bureau of Shenyang Municipality, the event's sponsor, hopes to make it into the first mega night-run in China and to turn the marathon run into a name card for Shenyang.