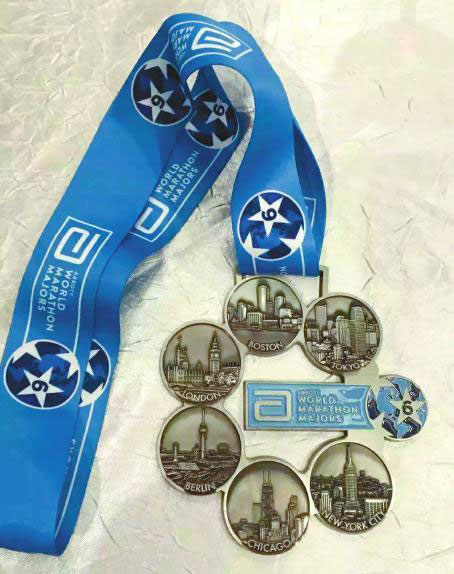 Ding Yan's Six Star Finisher Medal. [Photo/chinanews.com]
The latter half of Berlin Marathon was not an easy job for Ding. Her breathing became labored when she ran 28 kilometers. Fortunately, she met an old woman, who told her to adjust breathing. Then she went on to complete the marathon.
During the event, her four-year-old daughter felt proud when she saw Ding run past her. After embracing her little girl, Ding went on the last journey of the marathon. "I really wanted to complete the last journey by carrying my little girl, but I was very tired at that moment," said Ding.
The Berlin Marathon ended with 269 minutes and one second. From then on, the 42-year-old woman completed Chicago Marathon on Oct 11, 2015, New York Marathon on Nov 1, 2015, Tokyo Marathon in February, 2016, Boston Marathon on April 18, 2016 and London Marathon on April 24, 2016.
Thanks to Ding, her whole family has taken to running now. Besides her five-year-old daughter, 16-year-old son, even her husband, who is often busy with his career, runs with her whenever he is free.
"I will continue to run in marathons, and I plan to participate in Chicago Marathon in October 2016, and Hawaii Marathon in December 2016. I feel indebted to the sports, which has helped our families spend more time together and has made my life more colorful," said Ding.