The recent spate of inclement weather in Beijing, the heavy rain and dull cloudy days, couldn't help but remind me of "summer" days in my home country of Britain. As a child, I spent many happy holidays in a town called Berwick-upon-Tweed.
On the coast of the English county of Northumberland, it is near many areas of great beauty, the lovely beaches on the coast, the nearby Holy Island of Lindisfarne and the attractive scenery of the River Tweed.
It is a town noted as much for picturesque location as it is for its history, having changed hands a dozen times between England and Scotland in border wars over the course of 400 years until it finally was retaken by England in 1482.
To this day, Berwick-upon-Tweed (not to be confused with the town of North Berwick in Scotland) retains a special identity. Despite being in England, its soccer and rugby teams - Berwick Rangers and Berwick RFC - play in the Scottish leagues. In addition, although being just over three kilometers south of the border, the tourist souvenirs on sale in the town's shop have a distinctly Scottish flavor.
To me, the unique nature of this town is not an indication of a confused identity, or some sort of battle for its identity between England and Scotland. I think it is more an indication of how the Scottish and English peoples' identities have, to some extent, merged and overlapped through hundreds of years of a shared fate - economically, politically and culturally.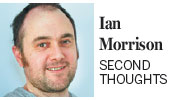 Just to the north of Berwick-upon-Tweed there is a "border" between England and Scotland (there always has been, as the two nations have distinct legal and education systems, and since 1999 Scotland has largely been administered by its own devolved government in Edinburgh). But that border is nothing more than signs at the side of the road, there are no barriers, there are no guards, there is no customs, there is no passport control.
Why should we create artificial barriers between two peoples who have shared so much over the past centuries? The current relationship between Scotland (the land of my birth) and England offers the best of both worlds, with the Scottish people having a very great degree of autonomy in a great many important social and economic issues, while remaining a member of the family of nations which is the United Kingdom, which remains a major player in global affairs. Why should we give that up for the sake of petty and spiteful separatism?
For me, the relationship is best encapsulated in the words of the famous Scottish folk singer Dick Gaughan, in his song Both Sides The Tweed:
"Let the love of our land's sacred rights
To the love of our people succeed
Let friendship and honour unite
And flourish on both sides the Tweed."