As of next month, online shoppers in Nanjing, the capital of Jiangsu province, will be charged extra if couriers have to make a third trip to deliver their orders. The fee has sparked a public debate.
"I have faced this problem many times-couriers don't call in advance and the parcels go undelivered."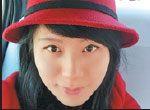 Liu Changran, college employee in Beijing
"If buyers are not home, couriers can put the parcels with the property management office. Maybe it's time to consider imposing fines on irresponsible couriers."
Wei Hongli, unemployed in Haikou, Hainan province
"It's unreasonable. The onus should be on the delivery company to contact the buyers in advance."

Yin Yating, website editor in Nanjing, Jiangsu
"If it's the consumers' fault, such a fee is acceptable. The charges should be unified and supervised by the authorities."
Cao Qian, library staff in Yantai, Shandong province