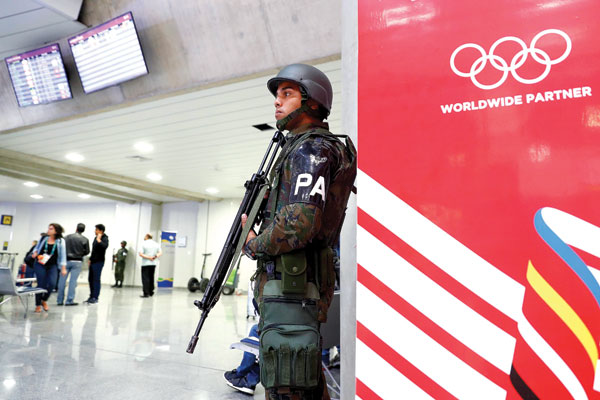 Armed police officers stand guard at Rio de Janeiro International Airport on Thursday night as security is tightened prior to the opening of the Olympic Games on Aug 5. Fu Tian / China News Service
China has issued a safety warning to Chinese visiting Rio de Janeiro for the Olympics, a week ahead of the opening ceremony, after a spate of thefts and armed robberies against Chinese athletes, officials, journalists and tourists.
Visitors to Brazil are reminded to leave jewelry and luxury watches at their hotel, and not carry backpacks or use mobile phones while walking on the street, the Foreign Ministry said in a statement on Friday.
It also advises that people should stay calm and not try to fight with robbers. They should call the police as soon as possible, it says.
China is sending a 711-member delegation to the Rio Olympic Games. Part of the Chinese delegation, including the track-and-field team and archery team, arrived in Rio this week.
The opening ceremony will be held on August 5.
Four officials of the China Anti-Doping Agency reportedly were victims of armed robbery two days after arriving this week.
Besides China, countries including Australia and Japan have also issued warnings to their citizens visiting Brazil.
The Japanese consulate in Rio de Janeiro even produced a safety manual for Japanese visitors.
Liu Yuqin, former Chinese ambassador to Cuba and Chile, said, "It is very important for people to keep calm and not panic if they find themselves in a dangerous situation."
Visitors should take precautions and keep Chinese consulate contact information on hand, she added.
711 members are in China's delegation to the Rio Olympic Games.