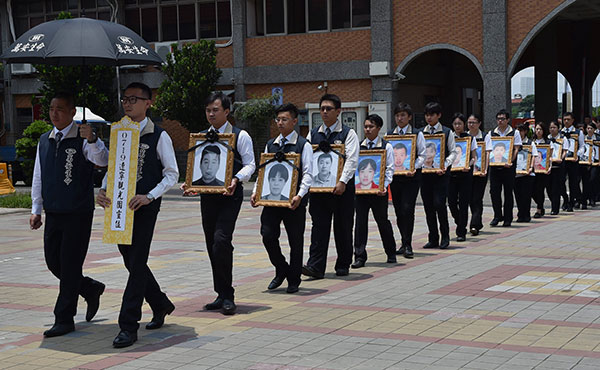 The framed photos of 26 people who died in a tour bus fire in Taiwan on July 19 are escorted to a memorial hall in Taoyuan city on Monday. XU DONGDONG/CHINA NEWS SERVICE
Investigators said late on Sunday that five plastic bottles filled with gasoline may have exacerbated a bus fire that claimed the lives of all 26 passengers on board on July 19.
They maintained that human error may have caused or worsened the inferno.
A bus with 24 mainland tourists, along with the driver and a Taiwan tour guide, crashed last week into the outer edge of a guardrail.
The Taoyuan District Prosecutors Office detected residue of flammable liquid on the bus and later confirmed the presence of five bottles filled with gasoline.
Two bottles were found near the driver's seat and three on the lower deck of the luggage compartment. There were also traces of gasoline near the driver's seat and front door.
Investigators on Sunday collected forensic samples from the driver and the tour guide to identify their exact locations during the fire.
The investigation later revealed that passengers had clogged the stairs to the emergency exit, but the door was not opened.
Prosecutors are investigating whether fatalities could have been minimized and whether they were caused by fire spreading too fast or by a jammed door that didn't allow passengers to escape.
More questions emerged as to why bottles of gasoline were taken on board and if they were mistaken for water and subsequently thrown on the blazing fire.
According to prosecutors, since most tour buses operating in Taiwan are diesel-powered, the five bottles of gasoline could not have been intended for fuel.
According to other bus drivers, gasoline is useful for scraping chewing gum or pen marks from the seats and walls of a bus.
"It is not entirely unreasonable, but still an unusually large amount for such a need," a driver said.
Also troubling is why the driver did not stop the bus after it began to emit smoke. According to investigators, the bus continued for another 1.3 kilometers.
Moreover, even if the emergency exit had been jammed, the door beside the driver's seat should have been working.
There were, however, no signs of an attempted escape, prosecutors said.
A public memorial ceremony was held on Monday in Taoyuan city to mourn the victims.
Taiwan's former leader Ma Ying-jeou was among the local representatives who mourned the dead at the ceremony.