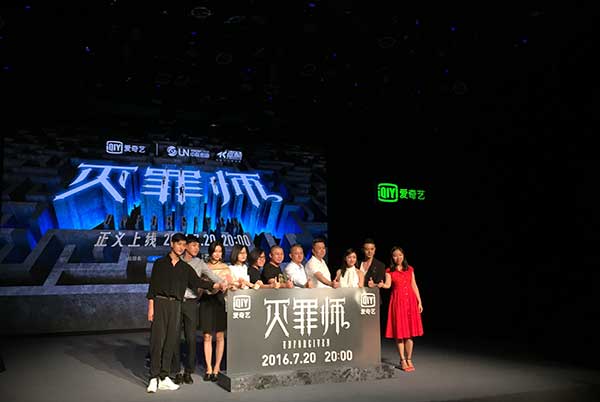 Suspense thriller TV drama Unforgiven will launch on iQiyi on July 20. [Photo by Li Jing / China Daily]
Online video provider IQiyi premiered "Unforgiven", a suspense thriller TV drama produced by it on July 18, looking to tap the summer holiday market.
The series start with an investigation of a serial murder and reveals the efforts by a Chinese detective and a rookie Korean police who lead the probe.
Based on stories by an emerging reasoning novel writer Leng Xiaozhang, the drama will stream new episodes every week from July 20 to paid subscribers only.
Launched right after the hit crime thriller drama Yu Zui, another iQiyi in-house produced TV drama series, the company hopes the new show will boost the number of its paid subscribers, which reached 20 million in July.
Crime thriller drama Yuzui, which has gone viral with 3 billion views, has resulted in a surge in downloads of the app as well as in the number of requests to buy the subscription service, the company said.
To meet the interests of young audience, directors Wu Bai and Yang Miao also highlight Korean elements in "Unforgiven". In addition to having a Korean actor and actress in the supporting roles, the drama also sets most scenarios in Korea and has dialogues in Korean.