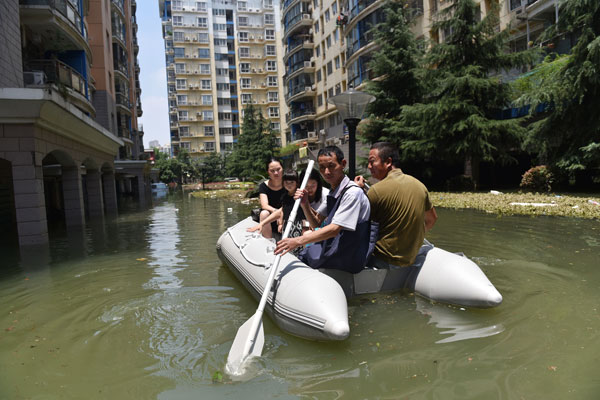 Residents in Wuhan, Hubei province, use a rubber dinghy for transportation after their community was flooded on Saturday. [Photo/Xinhua]
Dike patrolman Shao Wentao, 34, has been bowed down with anxiety in recent days. Looking across the Yangtze River at Wuhan, Hubei province, the mud flats he had inspected dozens of times were completely submerged by turbid water.
"The river is going up and our territory is getting smaller and smaller," he said.
Shao is working in a 40-strong team responsible for patrolling a 2-km segment for any signs of trouble, including seepage and bubbles, that could lead to a breach of the embankment.
As rain continues to fall, water is above the alert level in the provinces of Anhui, Hubei, Hunan, Jiangsu and Jiangxi, reaching 28.3 meters in rivers in Wuhan this week, the highest in 17 years.
Shao has been on the beat for years.
"Nothing can be compared with this," he said, pointing to trees and brick houses that have been partly underwater for days. Less than 100 meters away are dozens of residential high-rises, some still under construction.
With more than 10 million permanent residents, Wuhan is the most populous city currently threatened by floods. Parts of the city are often flooded for several days at a time when the Yangtze rises.
The Wuhan government has called up more than 30,000 people ranging from government officials to ordinary citizens to closely monitor its 308 kilometers of embankments.
A problem was detected on Monday in Qingshan in the city's northeastern quarter and quickly dealt with when dozens of heavy trucks poured tons of gravel for more than 10 hours.
In Hunan, precipitation in some areas has hit record highs.
"The heavy rain is closely connected with the effects of El Nino, which appear to be the strongest since 1951," said Zhou Bing, chief engineer of the National Climate Center.
Although there have been no breaches in major cities along the main river, many villages along tributaries have been submerged.
Neighborhoods adjacent to Nanhu Lake in Wuhan have been in 1.5 meters of water for more than five days and residents have had to use boats to enter or leave the area. Thousands of people have been evacuated.
"To try to drain the area, our 15 pumps have been running at full capacity for eight days," said Zheng Wei, director of a local pump station. "We have pumped as much water out of the city in the past week as we normally pump out in six months."
The city has 16 large pump stations, all working 24 hours a day.
There is some good news, though: The rain has temporarily abated and the Three Gorges Dam, the world's largest hydropower project, which was built a decade ago to reduce the potential for floods, has retained a lot of water upstream.
However, local flood control authorities cannot let down their guard yet, as the flood peak usually comes in late July or early August.
The Yangtze will see an even stronger wave of floods if downpours strike the upper, middle and lower reaches of the river simultaneously, said Chen Guiya, deputy director of the Yangtze River Water Resources Committee.
"The hardest battle is yet to come," Premier Li Keqiang said during a visit to sodden regions last week.