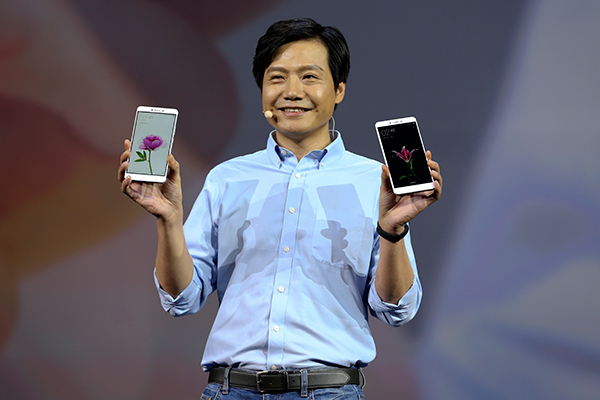 Xiaomi founder and CEO Lei Jun demonstrates his company's big-screen smartphones last month in Beijing. [Photo/China Daily]
Inexpensive but great
Natalie Simon recently became a firm fan of Xiaomi, a Chinese technology pioneer, buying a Xiaomi smartphone four months ago and later a fitness-tracking wristband.
"I searched the internet for a smartphone with outperforming camera function and Xiaomi came into my spotlight. Users gave impressive reviews, not only in its camera but the overall performance," said Simon, a PhD student in Paris.
She didn't hesitate to place an order on the company's website. The mobile phone didn't let her down.
"One can purchase seven Xiaomi smartphones with the price you pay for an iPhone, but their differences seem trivial in most cases," Simon said.
Not long after that she bought a wristband.
"Once again, it's cheap and useful. So I recommended it to my brother and many peers and friends," she said.
In Australia, where there are abundant local options for health products and medicines, and people generally have strong trust for local brands, Kate Brooks said she recently tried a Chinese ointment to relieve burns and found it very effective.
"Two Thai friends first introduced the product made with Chinese traditional medicines and herbals to me. They said it was super useful for them to treat burns and cuts," said Brooks, a resident of Melbourne.
"It must be very popular with Asians here and I will recommend it to Westerners here for sure."
Unlike these newcomers, Dragon and Tiger brand balm from China has been popular overseas for decades. A search of the balm, which is made with a traditional herbal formula to relieve pain, itching, sore muscles and fatigue, showed 33 results on Amazon.com.
Zhang Nan, who runs a small shop near Yu Garden, a must-see spot for first-time visitors to Shanghai, said the balm is popular among foreign tourists.
"People from many parts of the world, including the Middle East, France and Canada, to name just a few, buy the product from me. Their enthusiasm for the balm is as high as Chinese people purchasing luxury bags overseas," Zhang said.
Information on the company website showed that the balm, also known as qingliangyou, has been exported to more than 80 countries.