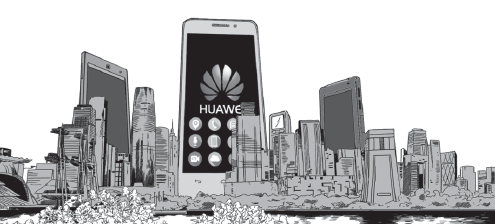 LI FENG/CHINA DAILY
How many of us have looked around the office and wondered not whether our colleagues use a smartphone, but rather what brand of smartphone they use, such is the omnipotence of this high-tech gadget.
If we went just one small step further we would probably be surprised to find out just how many now covet the latest Huawei smartphone, rather than an Apple, as might be expected.
If you are one of these Huawei smartphone users or want-to-be users, you are not alone. Last year the Shenzhen-based Chinese high-tech giant shipped smartphones to 108 million users around the world. It is now the world's third-largest smartphone producer, with an impressive share of 8.7 percent in the global smartphone market in the first quarter of 2016.
And now Huawei is taking rival Samsung to court in China and the United States over alleged patent infringements. It is the first time a Chinese manufacturer has taken on the world's largest smartphone vendor.
Perhaps the most significant statistic of all is the Chinese company's spending on research and development in 2015. Last year Huawei invested a whopping $9 billion on R&D, almost $1 billion more than arch rival Apple.
Huawei is a perfect example of the new, modern Chinese corporate brand that was created and built in China by talented and innovative Chinese high-tech engineers.
Huawei's impressive international expansion has not involved major takeovers of foreign brands, nor has it involved long-standing partnerships or any kind of significant support at all from established Western brands.
Chinese owned and Chinese led, Huawei represents a shining light globally with an envious reputation for technological innovation.
But what is most impressive and most avant-garde for Chinese companies is the emotional brand image that Huawei has managed to establish internationally. The logo plays a significant part here, also the name. Huawei's progress towards an ever more emotional bond with its internationally expanding customer community accelerated even more with news earlier this year of the appointment of Lionel Messi as their global brand ambassador. The appointment of Messi, who surely needs no introduction, is the smartest of smart moves for the globally ambitious smartphone producer. Not only will Messi's association raise awareness of Huawei worldwide, it will also further infuse the brand with very positive emotional brand values such as "excitement", "passion" and "fun".
Not that Messi's appointment is the company's only sports sponsorship initiative. Huawei has long-standing, formal tie-in relationships with leading football clubs across Europe such as Arsenal, Athletico Madrid and AC Milan, as well as clubs in Peru, Mexico and Colombia.
In fact, such is the rapid rise of the Huawei brand that all sorts of suitable, related brand extension possibilities are already presenting themselves as viable strategic options.
For example, it should come as no surprise if before too long we witness the first Huawei automobile, possibly electric, rolling off the production line and destined for global markets.
Digital cameras present another perfect brand extension opportunity for Huawei too.
All in all, Huawei's success story leaves a well-marked trail for other Chinese companies to follow, and not just those in the high-tech sector.
Most importantly it is Huawei's very strong Chinese identity and image that have contributed to its increasing global dominance. Huawei's Chinese identity automatically injects the corporate brand with Chinese cultural values such as "harmony", "togetherness" and "respect". It is this that should stand out as the way forward for the international emergence of Chinese companies generally.
The author is a visiting professor at the University of International Business and Economics in Beijing.