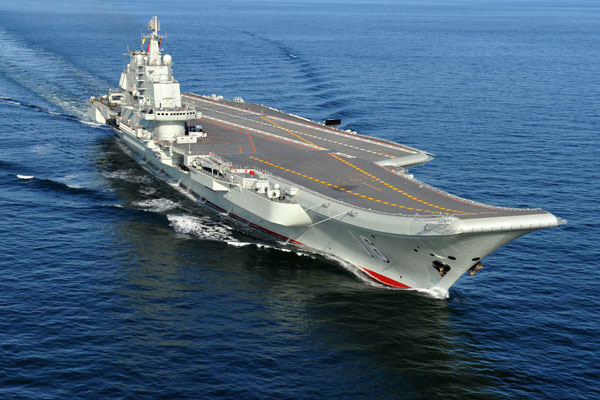 An undated file photo shows China's first aircraft carrier Liaoning. [Photo for chinadaily.com.cn]
The maneuvers by US warships and fighter jets in the South China Sea and the Sea of Japan are a "new normal" that China and Russia have to face, as US military leaders said on the weekend they will continue their operations, and may do so more frequently as time goes on.
In that case, US President Barack Obama's "rebalancing to the Asia-Pacific" strategy, which was originally said to focus on economic and trade relations with countries in this region, has turned out to be a strategy of the US military to ratchet up confrontation with China and Russia.
Such a "new normal", which the US military justifies as necessary to assert its presence in Asia and the Pacific, evokes the Cold War.
When the United States first announced its rebalancing to the region, China welcomed it and expressed its hope that the strategy would further promote bilateral relations with the US. Even on the question of the South China Sea, China has reiterated that it has never changed its stance of settling the territorial disputes with its neighbors through talks. Shelving differences and joint exploitation have long been what China has been saying to its neighbors and the world.
But in a speech to graduates at the US Naval Academy on Friday, US Secretary of Defense Ash Carter said that China had taken some expansive and unprecedented actions in the South China Sea and was pressing excessive maritime claims contrary to international law. He described China's actions as erecting a Great Wall of self-isolation as countries across the region are voicing concerns publicly and privately.
Obviously the US military is trying to justify the "new normal" it has created and maintained by pointing its finger at China.
If anything, what the US Navy and Air Force have been doing in the South China Sea and the Sea of Japan has contributed to the increased tension in the region. And the reality proves to be a far cry from what the US initially claimed was the purpose of its rebalancing strategy.
Was the strategy an attempt to contain China from the very beginning or has it been hijacked by the US military?
Whatever it is, it has brought both political and military instability to the region and has created a lot of uncertainties both for the region and the world.
With such a "new normal", will it be possible for the world's largest developed country and its largest developing counterpart to work together for a better world?