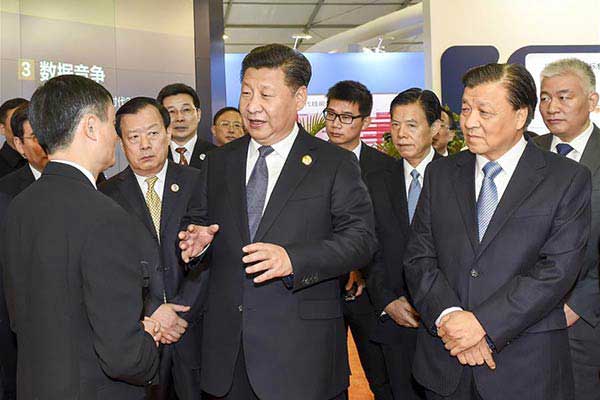 Chinese President Xi Jinping (C front) visits the "Light of the Internet" expo in Wuzhen, East China's Zhejiang province, Dec 16, 2015. [Photo/Xinhua]
Technology is the basis of a modern nation's development and innovation the soul of its progress. In his strategic thinking, President Xi Jinping considers technological innovation essential to sustain development.
Xi has a deep strategic understanding of the contemporary world and has emphasized that "technological innovation is the strategic support to enhancing social productivity and comprehensive national strength, which must be put at the core of the nation's development as a whole".
While the most important resources for an agricultural society are labor, soil and energy, that for modern industrial and information societies is technology.
Technology plays the central role in propelling society forward, and it is an important element that decides the comparative strength of different countries.
Xi's strategic thinking about technology is always centered on the Chinese nation and the people, and his purpose is to serve the great rejuvenation of the Chinese nation.
China suffered from military defeat and humiliation in the latter part of the 19th century and early 20th century, and its backward technology was an important factor hindering the development of Chinese society.