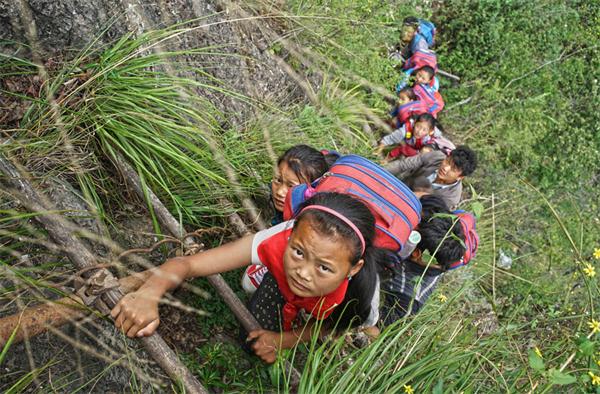 Children climb a vine ladder on their way home, May 14, 2016. The children study at a school at the foot of the hill and go home twice a month. [Photo by Chen Jie/VCG]
Schoolchildren have to use a rattan ladder to scale an 800-meter cliff to reach their homes in an isolated village at the top of a mountain in Liangshan Yi autonomous prefecture in Southwest China's Sichuan province. Beijing News commented on Thursday:
It is always difficult for impoverished residents in remote locations to enjoy the dividends of local poverty-alleviation efforts. However, in Liangshan's case, the local government should not rush to move all villagers either, as their living conditions are basically satisfactory except for their geographical isolation that makes it difficult for them to get medical treatment and for the children to go to school.
Building roads would be a more feasible solution to their inaccessibility. But it will cost about 60 million yuan ($9 million) to connect the aforementioned village and two other remote villages, with the isolated farmers suffering to make ends meet unlikely to pitch in.
On the one hand, governments at the prefecture level are responsible for road construction and maintenance, according to the law. On the other, the local residents also need to collectively raise funds to help build the necessary roads.
In fact, neither the poverty-stricken counties nor the poor local residents can afford such an expense, which therefore falls on the country's poverty-alleviation authorities. The very existence of Liangshan's mountaintop villages and probably many more of them in western China, where all villages are expected to be included in the regional road network by 2020, highlights the need to double the support for poverty alleviation.
In response to the "accidental" exposure of the cliff-side villages, Liangshan's Party chief has promised to build a steel ladder to replace the rattan ladder as soon as possible to better ensure the safety of the villagers. But more concerted institutional efforts are needed to improve the accessibility to such undeveloped communities.