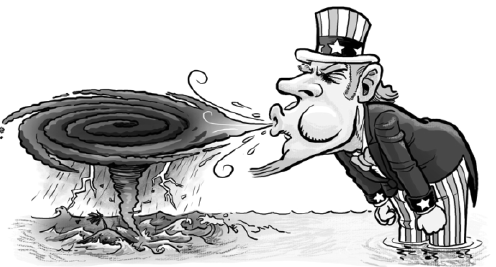 Luo Jie/China Daily
In January 2013, the Philippines unilaterally instituted arbitration proceedings against China with respect to its disputes with China in the South China Sea. On March 30, 2014, the Philippines presented a Memorial consisting of 15 Submissions. In Submission 13, the Philippines complained about two series of allegedly dangerous actions conducted by China's law enforcement vessels against Philippine law enforcement vessels on April 28 and May 26, 2012. The Philippines alleged that China thus violated relevant provisions of the Convention on the International Regulations for Preventing Collisions at Sea (COLREGs), and the UN Convention on the Law of the Sea (UNCLOS).
To support its allegations, the Philippines retained Professor Craig H. Allen of the University of Washington, who presented his written opinion to the arbitration tribunal at the Permanent Court of Arbitration in The Hague on March 19, 2014, and Professor Alan E. Boyle of Essex Court Chambers of the United Kingdom, who gave a statement before the tribunal on behalf of the Philippines on Nov 26, 2015.
The argument of Boyle and Allen was: China's law enforcement vessels, by approaching Philippine vessels at close range rather than keeping well clear, violated the COLREGs; China thereby violated Article 94 of UNCLOS as a flag state for failing to exercise effective jurisdiction and control over its vessels.
It should be noted that the two professors retained by the Philippines acknowledged or did not deny the basic fact that the alleged incidents took place within the territorial sea of Huangyan Island, which is thus the territorial sea of China, and that the Philippine law enforcement vessels allegedly threatened by Chinese law enforcement vessels were not conducting innocent passage through the territorial sea, rather they were carrying out illegal activities that were prejudicial to the territorial sovereignty of China.
The principal limitation on sovereignty over territorial seas is the right of foreign vessels to innocent passage. UNCLOS defines "innocent passage" in Article 19 (1) as "not prejudicial to the peace, good order or security of the coastal State". Article 25 (1) of UNCLOS provides that "the coastal State may take the necessary steps in its territorial sea to prevent passage which is not innocent". Article 8 of the Law of the People's Republic of China on the Territorial Sea and the Contiguous Zone states, among other things, that "the Government of the People's Republic of China has the right to take all necessary measures to prevent and stop non-innocent passage through its territorial sea". As such, the only right Philippine vessels have in the territorial sea of Huangyan Island is innocent passage, any activities other than innocent passage are prohibited.
China, as the coastal State, is entitled to take necessary measures to stop activities of vessels that are prejudicial to Chinese sovereignty, which is common practice worldwide.