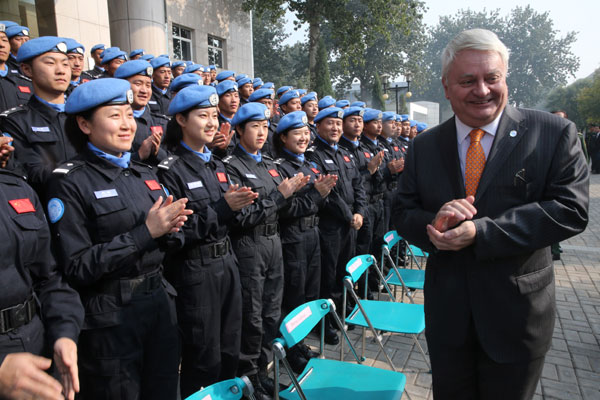 Herve Ladsous (R), UN under-secretary-general for peacekeeping operations, visits the Chinese People's Armed Police Force Academy in Langfang city, Hebei province, where the peacekeepers are trained, Oct 17, 2013. [Photo by Jiang Dong/Asianewsphoto]
At the Xiangshan Forum in Beijing last year, an ex-journalist of Al Jazeera asked me why China couldn't fill the power vacuum in the Middle East. China can be accepted by all parties, he said, because "unlike Western powers, China's hands are clean".
He is not alone in saying something like that.
Today, China's stake in the Middle East goes far beyond oil imports, and covers infrastructure, trade and investment, nuclear energy, satellite launches, and aerospace cooperation, among other things. But one only needs to look at Syria to know there is no such thing as a power vacuum in the Middle East. Instead chaos spreads unabatedly. It only brings in more rivalry, both from within and from outside. True, China's hands are clean. But would they still be clean if China became involved militarily?
The best China can offer to the region is noninterference plus necessary assistance. Nowhere else on earth has seen so much bloodshed, tears and homeless people as the Middle East. This is not only because of the ethnic and religious strife, but also a result of proxy wars before, during and after the Cold War.
China's noninterference may not be what the warring parties or nations need most, but it makes Beijing acceptable to bitter enemies such as the Arab states and Israel. In fact, China's strongest point is that all parties believe China is not allied with anyone of them. Therefore, China can be trusted to be neutral and impartial.
Having said this, China can assist. Contrary to what some people have suggested, China doesn't have a "unique" role or special interest in the security of the Middle East. Its role as an honest mediator in the Middle East is very much like the role it has played in the Six-Party Talks on denuclearization of the Korean Peninsula, that is, to facilitate dialogue which hopefully leads to a resolution.