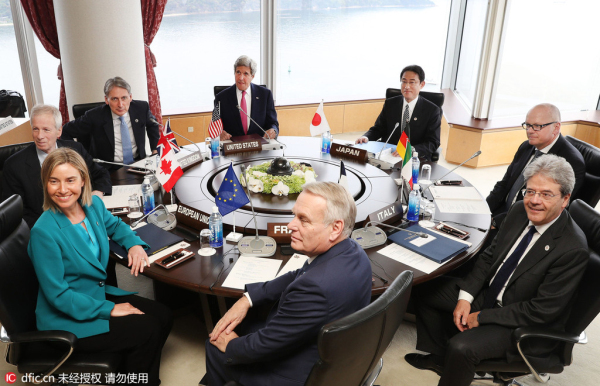 US Secreatary of State Johon Kerry (background, L) and G7 countries foreign ministers, attend the first round of meeting, hosted by Japanese Foreign Minister Fumio Kishida (foreground, R) at a Hotel in Hiroshima Prefecture on April 10, 2016.[Photo/IC]
Beijing should not be taken aback if the G7 summit in IseShima, Japan, ends with a statement repeating the same message on maritime security the members' foreign ministers delivered last month.
They need things like that to showcase the group's "harmony" and "solidarity". Their host, Japanese Prime Minister Shinzo Abe, needs it to showcase his "leadership".
Nor should Beijing feel offended. China is not the party violating the Declaration on the Conduct of Parties in the South China Sea or the United Nations Convention on the Law of the Sea, or altering the status quo. It was neither the first, nor is it the only country to engage in land reclamation. Should any of the seven leaders have difficulty understanding that, they can consult their host on what Japan has done concerning Douglas Reef.
G7 solidarity is certainly conducive to addressing the members' common headaches. But the ambitious Abe is overburdening the group, distracting the exclusive club from what is imperative, and otherwise achievable.
The G7 nations have plenty of burning issues of their own to deal with, as well as the collective agenda priority of boosting their economies.
But Tokyo wants to demonstrate "leadership in guiding the world by showing the best path forward for peace and prosperity," and is attempting to turn the summit into a platform for peddling "Abenomics", which remains less than successful at home.
And the political antagonism Abe is sneaking into the G7 consensuses will inevitably poison their economic efficacy.
The world's economies have become interwoven so broadly and tightly that it is beyond the capabilities of the G7 members to take care of their own economic troubles without engaging stakeholders outside the group.
Which is why solidarity within the G7 is not enough. Which is why the G20 came into being.
Under the Abe administration at least, Tokyo will continue seeking to upset Beijing, economically, politically, even militarily. But Beijing should not allow itself to be bogged down in tit-for-tat with its narrow-minded neighbor.
On the contrary, it should stay focused on its chosen course of building and broadening development partnerships. The theme it has formulated for the upcoming G20 gathering in China-"building an innovative, invigorated, interconnected, inclusive world economy"-features an approach dramatically different from that of the G7 summit in IseShima, which is essentially self-serving and divisive.
The earlier G20 financial ministers' meeting in Shanghai, which produced a document on all participating countries sharing collective responsibilities, showed what difference a change in approach can make.