China's first infantry battalion to South Sudan is set for departure, marking the country's first infantry to participate in a United Nations peacekeeping mission.
A rally was held Monday in the city of Laiyang in east China's Shandong Province. The dispatch was approved by the Central Military Commission and its Chairman Xi Jinping.
Previous Chinese peacekeepers were mainly engineering, transportation, medical service and security guard corps. The 700-strong infantry battalion includes 121 officers and 579 soldiers. Forty-three members have participated in peacekeeping missions before.
An infantry squad composed of 13 female soldiers will participate in a peacekeeping mission for the first time.
The first batch of 180 will fly to South Sudan next January, with the rest traveling via air and sea next March.
As the largest contributor of peacekeepers among the five permanent members of the UN Security Council, China has deployed more than 27,000 military personnel around the globe as of September 2014, according to the Ministry of National Defense.
A total of 2,027 Chinese peacekeepers are currently posted in conflict zones.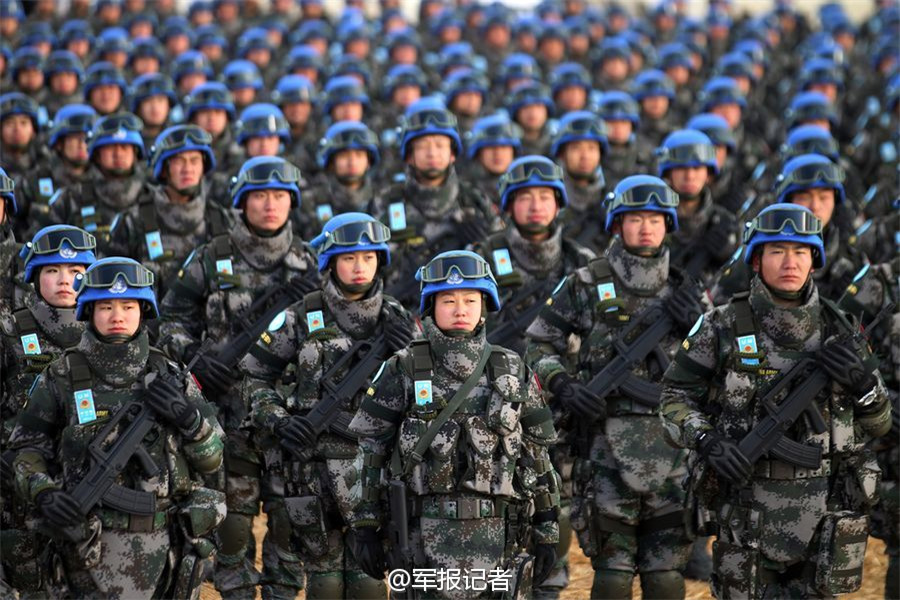 Soldiers attend the ceremony. The battalion will be deployed in Juba, the capital of South Sudan, and assume the task of protecting civilians, UN and humanitarian staff, and will conduct patrolling and security missions. [Photo/Weibo account of PLA Daily]