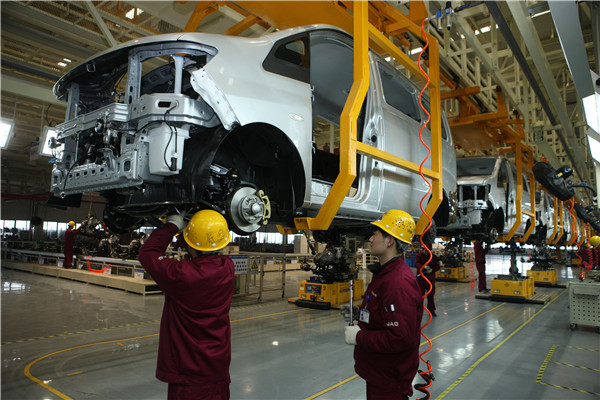 Workers monitor an MPV production line at a passenger vehicle manufacturer in Anhui province.HU WEIGUO/CHINA DAILY
The increasing sales of multi-purpose vehicles in China has attracted the attention of many carmakers, including those that make premium vehicles.
They are keen to step up their efforts to seize some market share. Severe competition appears inevitable.
The MPV segment is dominated by local automakers' low-end vehicles that command about 90 percent market share. Some are already wondering if the situation is ripe for change.
"With product lines that have been improved gradually, the local brands would continue to lead the MPV market," said Han Dehong, administration and public relations director of SAIC-GM-Wuling, the joint venture of SAIC Motor, Liuzhou Wuling Motors and GM China.
Han said SGMW's new models will reflect consumers' demands for upgraded cars.
The carmaker plans to launch several models later this year, including the Baojun 310, the refreshed Baojun 560 and Baojun 730. He said the company is developing a new-energy model under the Baojun brand. Last month, it launched the Hongguang S1.
"Although the competition in the MPV market is getting more serious, there is still plenty of room to grow," he said.
According to Han, the MPV segment has a huge market base with a wide price range. Its increasing niche segments are able to fulfil customers' various fast-changing needs.
The market potential partly comes from the increasingly rational demands being made by consumers, said Han. He explained the low-end MPVs could be used for commercial purposes, while the mid-end and high-end ones target families.
Last year, China unveiled a second-child policy that replaced the single-child policy. Han said the five-seater sedans and SUVs no longer fit the larger family. Which is why, the roomy and comfortable MPVs are admired by young families planning to buy a car.
Also, the continual high demand from buyers for multi-function, cross-segment vehicles, and availability of a broader line-up of MPVs, will boost the segment, Han said.
China sold 631,700 MPVs in the January to March period, up 9.1 percent year-on-year. Some 601,700 of them were local brands.
Wuling Hongguang, an MPV launched in 2010 by SGMW, has been China's best-selling auto model for the past four years.
According to the China Association of Automobile Manufacturers, sales of Wuling Hongguang reached about 255,800 units last year. The Baojun 730, an MPV from the SGMW stable, was China's fifth best-selling model last year with sales of 321,100 units.
SGMW produced and sold 2 million vehicles last year, which made it the first automaker in China to achieve that figure in annual output and sales. The company said its sales last year included 1 million MPVs, up 14.8 percent year-on-year.
"In future, the hotspot in the MPV segment would be mid-ends and low-ends," said Zeng Zhiling, managing director of LMC Automotive Consulting (Shanghai) Co.
Zeng said the second-child policy may stimulate use of MPVs among high-end families. In that sense, the market could be relatively small after all. "The second-child policy may persuade some families to choose MPVs, but large-size SUVs would be more competitive," Zeng said.
Contact the writer at duxiaoying1@chinadaily.com.cn