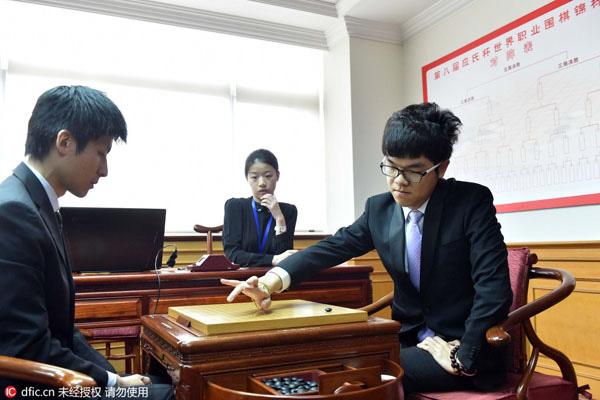 Ke Jie (Right) plays at the 8th Ing Cup in Shanghai, April 20, 2016. [Photo/IC]
Ke Jie, currently world No 1 in Go ratings, is expected to compete with Google's Artificial Intelligence computer program AlphaGo within this year, a senior official of China's sports administration said, Shanghai Morning Post reported.
Chinese Weiqi Association spoke with the AlphaGo team recently, and they are willing to hold a competition between the man and the machine, said Yang Jun'an, party chief of the Board and Card Games Administrative Center under the General Administration of Sport of China.
Yang, also an executive of the International Go Federation, revealed this at a news conference during the 37th World Amateur Go Championship that started in Wuxi, East China's Jiangsu province, on Saturday.
Yang said the event would possibly be held within this year, but the place and the date have not been decided.
The Go competition between AlphaGo and South Korean Go master Lee Sedol attracted the world's attention in March. After taking a 4-1 win in the five-game match, AlphaGo has been ranked as No 2 in Go ratings, just after Ke.
Ke, 19, defeated Qiu Jun to win the 2nd Bailing Cup final and became world champion on Jan 14, 2015. Ke has since earned Go's highest level of nine dan and won the 2015 Samsung Cup.
According to Ke's official fan club, Ke said on his personal Weibo account, a Twitter-like service, that he is confident he will defeat AlphaGo even though the machine has beaten Lee.
The expected face off has generated lots of buzz around the world.