Big cities more tolerant of diversity in people's sexual identities, advocates say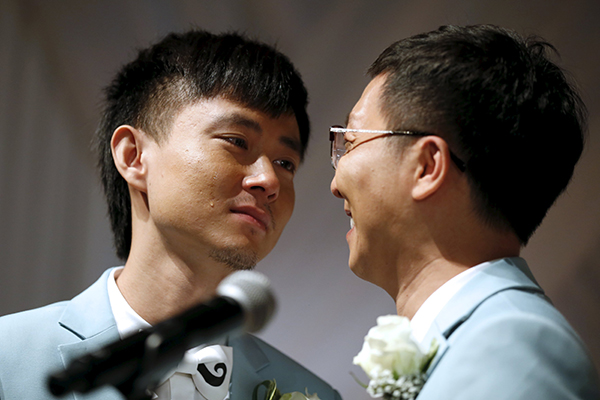 A couple at a group wedding for seven same-sex couples from China, in West Hollywood, California, United States, June 9, 2015. [Photo/VCG]
China's first-tier cities are becoming more tolerant toward diverse sexual orientation, experts and business leaders said during a job fair in Shanghai for people identifying as LGBT.
The Annual China LGBT Talent Job Fair late last month was the second of its kind to be held in China. It was hosted by the nonprofit business network WorkForLGBT that advocates for lesbian, gay, bisexual and transgender people. The fair attracted 34 companies-double last year's number-and about 500 job seekers.
Major multinationals, including Starbucks, L'Oreal, PwC, Ford, 3M and Morgan Stanley took part, in addition to a handful of Chinese brands that included Blued, China's largest gay social networking app, and Didi Chuxing, the country's biggest car-on-demand service provider.
"All 34 companies that registered for our job fair this year pledged their support for inclusive policies for LGBT employees, including prohibiting LGBT workplace discrimination", said Steven Bielinski, the founder of WorkForLGBT.
"This is an enormous step forward for the business community in China as they increasingly realize the importance of LGBT talent."
China is thought to have between 40 and 70 million LGBT people. The number is based on estimates generated from overseas surveys that suggest the LGBT population is usually around 3 to 5 percent of the total population. Official figures about the size of the LGBT population are not available, and some experts say being openly gay in the workplace is still something the majority of LGBT employees in China can only dream of.
Bielinski said companies wanting to remain competitive in China need forward thinking and innovative HR programs and policies supporting the LGBT community. These include nondiscriminating workplace policies, diversity and inclusion training programs that create a welcoming environment, as well as employee networks that allow LGBT employees an organizational voice.
Geng Le, CEO of Blued, told China Daily that China has made progress and become more inclusive in recent years.
He said the first-tier cities of Beijing, Shanghai, Guangzhou and Shenzhen as well as overseas companies, technological firms and the fashion industry were all very tolerant of LGBT culture. But he said discrimination still exists within many native companies in traditional sectors.
"In terms of working capabilities, LGBT people are no different from straight people," he added.
Geng was also one of the bosses looking for employees on a reality TV show for job seekers broadcast by Tianjin Satellite TV.
He said his participation in the TV show as an entrepreneur with a company that specializes in the same-sex sector shows how traditional TV has changed in the way it deals with the LGBT community.
Jobseekers at the LGBT job fair were pleased to attend.
"I was worried about whether there would be any discrimination from employers and whether people from outside the LGBT community would attend," said Li Liang, 38, an IT operator. "But when I arrived, those concerns disappeared quickly." Li also said that, as a gay man, the biggest problem he has in the workplace is concealing his sexual orientation and feeling isolated.
"I can't reveal my orientation to my colleagues," he said. The topics of marriage and girlfriends make him nervous, and he has pretended to be in heterosexual relationships that do not exist.
Li Na, 28, delivered two resumes at the job fair and was seeking a position as an accounting specialist. "I was surprised and very happy to learn there was a job fair specially for the LGBT group. I told myself that I must be there," she said.