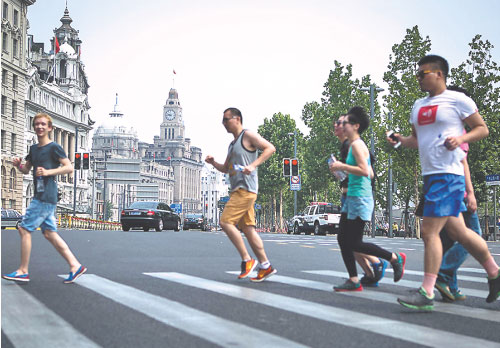 Competitors take part in a footrace as part of Shanghai PRIDE in June 2014. Photos by Gao Erqiang / China Daily and Mo Cun / for China Daily
As an increasing number of foreigners come to live in China, traditional mores and values are constantly being challenged, especially those concerning sexuality. Tang Yue reports.
If, as some sociologists claim, tolerance of minority lifestyles can be taken as a measure of a city's potential creativity, can the theory also be applied to a country?
The past four decades have seen China rise to become the world's second-largest economy, and that growth has attracted talented people from across the world who contribute to the country's development.
Some initially struggle to assimilate with China's unique culture and social mores, but the open-mindedness displayed by residents of China's larger cities is making the expat life far easier, especially for gay, lesbian, bisexual and transgender people, or LGBT, who say they have noticed a growing acceptance of their lifestyles.
Hunt (not his real name) had never met a gay person until six years ago when he wandered into a gay bar in Shanghai at age 26. The Palestinian national has lived in the city ever since, and frequently organizes events for people of minority sexual orientation.
"I was very shy back then and never imagined doing what I do today," he said, adding that in the Middle East, "it's too complicated to come out."
As he spoke he was interrupted by a call from his Chinese boyfriend who was on his way from the airport to meet Hunt. He had traveled from his home in Lanzhou in northwestern Gansu province, about 2,000 kilometers from Shanghai, to celebrate his birthday with Hunt.
According to a 2011 study conducted by the University of California, an estimated 3.5 percent of adults in the United States identified themselves as lesbian, gay or bisexual, and an estimated 0.3 percent defined themselves as transgender. Studies in other countries showed similar results.
While there are no official figures about China's gay, lesbian, bisexual and transgender population, if the numbers reflect those seen in surveys conducted overseas, LGBT people would account for 3 to 5 percent of the population; somewhere between 40 million, similar to Argentina, and 70 million, like Turkey, but certainly larger than that of Canada.
Expat vs local
Large cities such as Beijing and Shanghai, hosts to some of China's biggest universities and international companies, are the most popular locations for LGBT people, especially expats.
"I had a boyfriend from the UK. We'd hold hands on the street in Beijing, be close, and not be bothered at all, as we fear people do in the US and elsewhere," said Stephen Leonelli, a US national who worked as a volunteer at the Beijing LGBT Center from 2010 until 2013.
"However, I know a lot of Chinese wouldn't agree with that statement, because they have family ties, and family members ask a lot of questions. But being foreigners, we kind of skip all that," said the 28-year-old, who is studying in the Master of Public Policy Program at Harvard University.
Joel Eames, a 34-year-old from Sydney who used to work for a multinational company in Guangzhou, Guangdong province, echoed Leonelli's view. "I didn't feel bound by the social norms because I was an outsider in a foreign place. I could tell there were gay Chinese people at work. They were obviously gay but they were not out; when they talked about themselves, they would express an interest in girls, and go along with the jokes and pretend they had a girlfriend."
China is a less-foreign culture to Astha Dalakoti, who was born in New Delhi, but spent her early years - from 3 to 13 - in Beijing. Her family later moved to Vancouver, but she returned to the Chinese capital four and a half years ago.