President urges the US to boost policy coordination at G20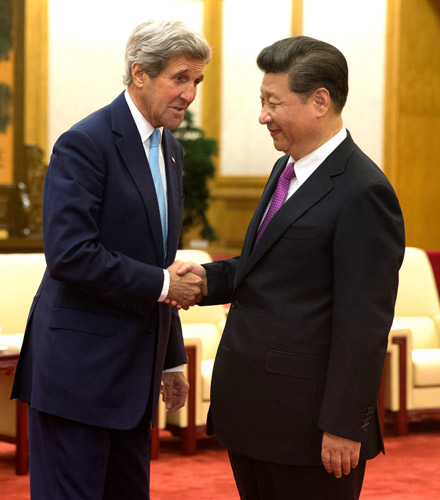 President Xi Jinping meets with US Secretary of State John Kerry. FENG YONGBIN / CHINA DAILY
President Xi Jinping said on Tuesday that he expects to exchange views on key issues with his United States counterpart Barack Obama during the G20 summit in China in September.
Xi also called on the US to strengthen macroeconomic policy coordination with China to inject confidence and new impetus into the world economy during the summit in Hangzhou, Zhejiang province.
He made the appeal at a meeting with the US delegation to the annual China-US Strategic and Economic Dialogue in Beijing, which ended on Tuesday.
At the two-day event — the highest-level formal dialogue between the world's top two economies — more than 100 agreements and deals were signed in strategic areas and more than 60 in economic sectors.
Xi urged the two governments to ensure these achievements produce quick results to benefit the two peoples.
He said there are many things that China and the US can work together on, and both nations should do more for the good of Sino-US cooperation.
The president added that the two countries could enhance cooperation in areas including trade, clean energy and environmental protection.
"In terms of the disagreements that exist between China and the US, the key is to respect each other's core interests and important concerns," Xi said, adding that the two nations should control their disputes constructively.